The EU is building on vaccine passports with a new 'digital ID wallet and platform' that will hold official ID's, including medical details, and will be interoperable across 27 countries. Brussels claims Covid has shown the need for a universal digital identity platform, and it says the new digital wallet will provide an economic boost post-pandemic. The wallet can store not just covid vaccine medical documentation such as vaccine passports, but also drivers' licenses, professional qualifications, social media passwords and financial and payment details.
Officials last month signed off on the 'Digital Covid Certificates' which can act as a vaccine passport. But this new ID wallet goes much further, allowing users to store many other files like driver's licenses, professional qualifications, and financial transaction details.
One app to rule them all!
Officials envision the wallet allowing a customer renting a car at an airport, for example, to complete the necessary ID checks and documents digitally and thereby skip the usual waiting at an agency counter. Nightclub-goers could show the app to security guards at the door to prove their ages and their vaccine status at the same time.
The digital wallet could also be used, by people renting cars at airports, allowing them to drive without providing physical documents over the counter. Other potential uses include opening banking and credit accounts, signing apartment leases and enrolling into schools and universities outside an individual's home country.

Some EU countries already have their own national digital ID systems such as Estonia, and the new wallet Brussels is developing would work alongside them. The commission plans to discuss the wallet with the EU's 27 member countries and aims to get them to agree on the technical details by the fall 2021 so a pilot project can begin in earnest.
The digital wallet "will enable us to do in any member state as we do at home without any extra cost and fewer hurdles," Margrethe Vestager, the European Commission's executive vice president for digital, said. "And do this in a way that is secure and transparent."
Also, dominant online platforms would be required to accept these new digital wallets, Vestager said "People would be able to use their EU digital wallets to access Google or Facebook instead of their 'platform-specific' accounts."
Ursula von der Leyen officially announced it on Twitter.
Today we propose to offer Europeans a new digital identity.

One that ensures trust and protects users online.

With it, you will be able to prove your identity and share electronic documents from your European Digital Identity wallet with the click of a button on your phone. pic.twitter.com/an5FJ6eN5C

— Ursula von der Leyen (@vonderleyen) June 3, 2021
She wrote: "Today we propose to offer Europeans a new digital identity. One that ensures trust and protects users online. With it, you will be able to prove your identity and share electronic documents from your European Digital Identity wallet with the click of a button on your phone."
"Nobody should be forced to give more data away than needed. To book a hotel room online, no one needs to know where I am from and who my friends are. With our proposal for a European Digital Identity, we are offering an alternative to the models of big online platforms."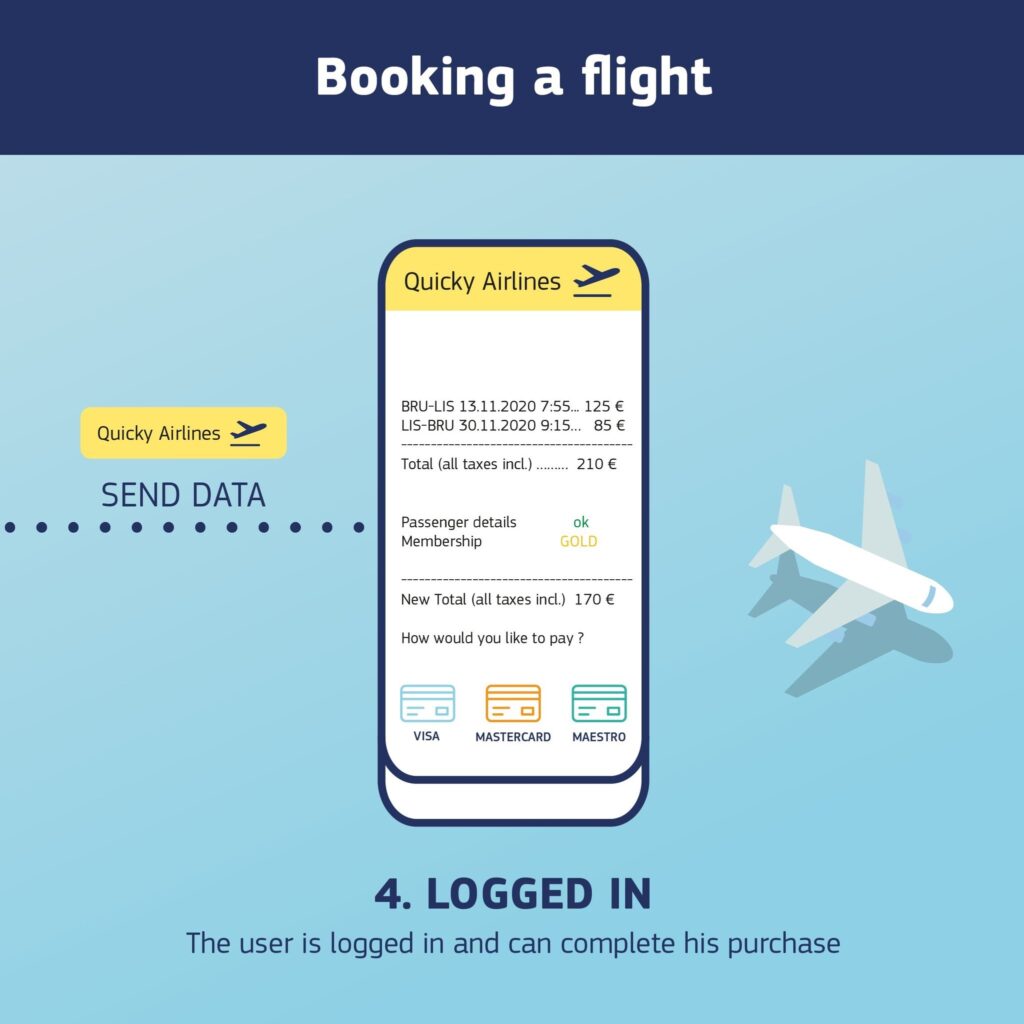 It is even worse than we predicted, it will store all electronic forms of identification and other official documents, such as driver's licenses, medical prescriptions, and school diplomas. Once they link in biometrics, blockchain and underwear sizes we are toast. You see every union, be it European, African, Indian, a world digital identity and passport authority is emerging, which would deny basic services based on global rules and ID status.
They need everyone to have a digital identity, which encapsulates everything about us, all our attributes, connections, and social scores. We will then be bought and sold as derivatives within a global blockchain monetary exchange system. If you think this system is completely optional you are being naïve: Currently in Slovenia: A Digital Identity is mandatory to get Covid Travel Certificates. The same technique the EU could also use, thus making digital ID mandatory to fly, no digital ID no Travel!
Make Sure You Have a "Digital Identity" to Get Your EU COVID Travel Certificates. Koritnik said "That residents who do not have digital identity should visit one of the registration points, where they would be identified by means of a valid identification document with a photograph."
Make Sure You Have a "Digital Identity" to Get Your EU COVID Travel Certificate
STA, 3 June 2021 - In order to expand the use of digital Covid certificates once they enter into force, the government is expanding the number of points where residents will be able to get their digital identity, Public Administration Minister Boštjan Koritnik told the press on Thursday. In addition…
Deloitte the technology partners have also come out with this very revealing slide deck outlining the globalists plans: its worth a check out:
Citizen Digital Identity and Digital Credentials for Re-Opening Borders, Travel, and Economies, to Return to "Normal" Life.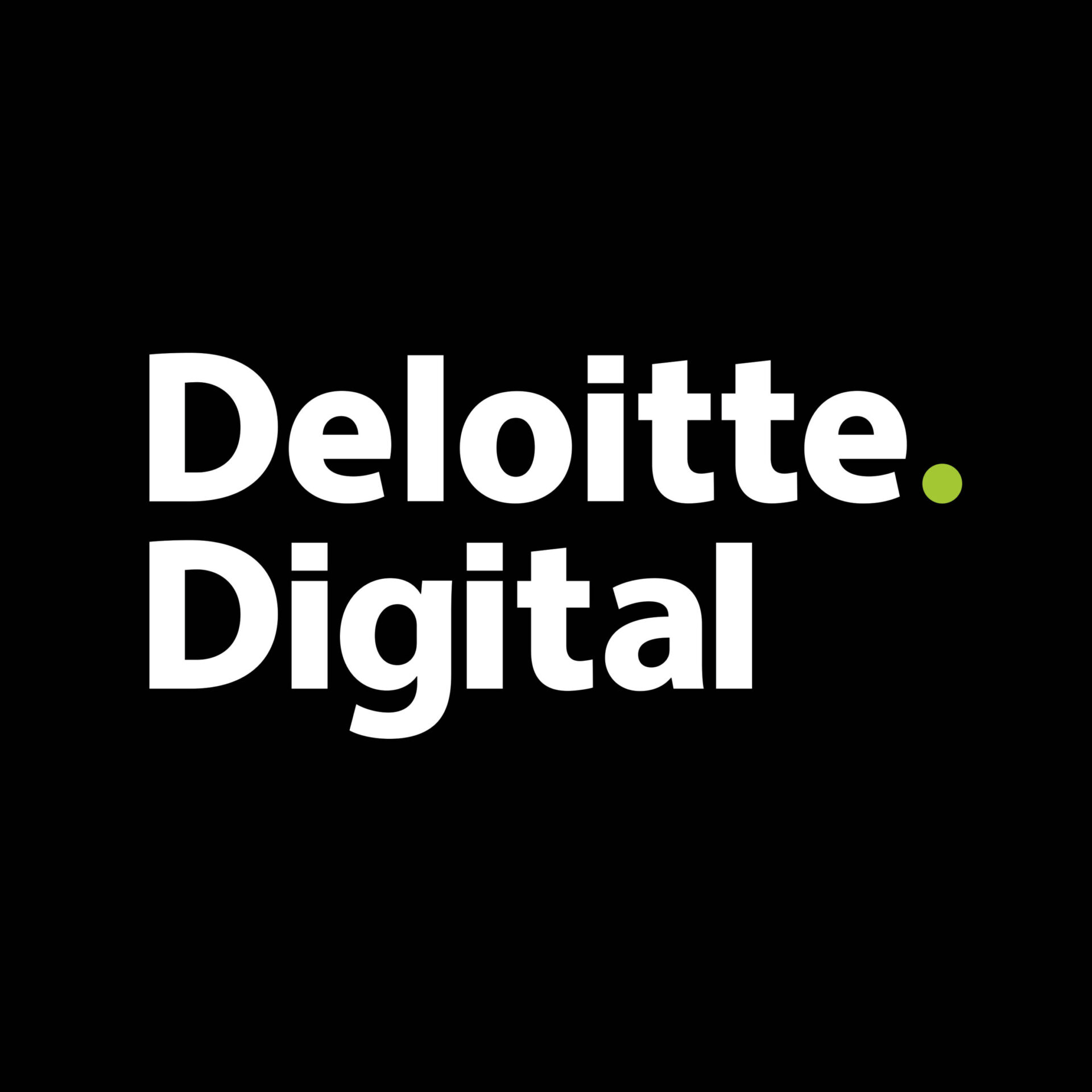 gx-citizen-digital-id-and-digital-credentials-for-reopening.pdf
Citizen Digital Identity and Digital Credentials for Re-Opening Borders, Travel, and Economies, to Return to "Normal" Life.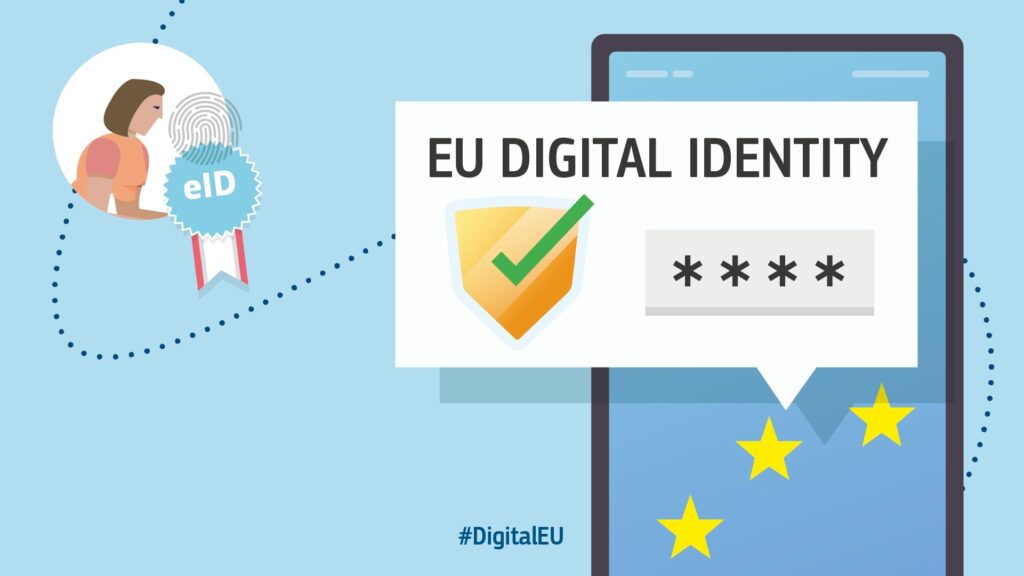 Here are some more of the Key points:
The EU wallet will interface with big technology platforms, like Microsoft, Google, Amazon, and Twitter. It will allow their users to log in to various services online, from shopping to reading news, replying to comments, giving full control on what data they share to identify themselves.
Digital wallets on their smartphones, to store travel boarding passes, keep virtual bank cards for payments, to possibly incorporate central bank digital currencies. Store and manage identity data and other official documents, birth certificates, driving licence, medical prescriptions and education qualifications such as degrees and diplomas. Access services online, to share digital documents, or simply to prove a specific personal attribute, such as age and current covid status.
Nightclubs and shops, security guards to verify legal ages, Rent-a-car counter of the airport. Hotel bookings, to be used such to open a bank accounts, to buy SIM card's which will be connected to your digital ID and subscribe to a public transport pass.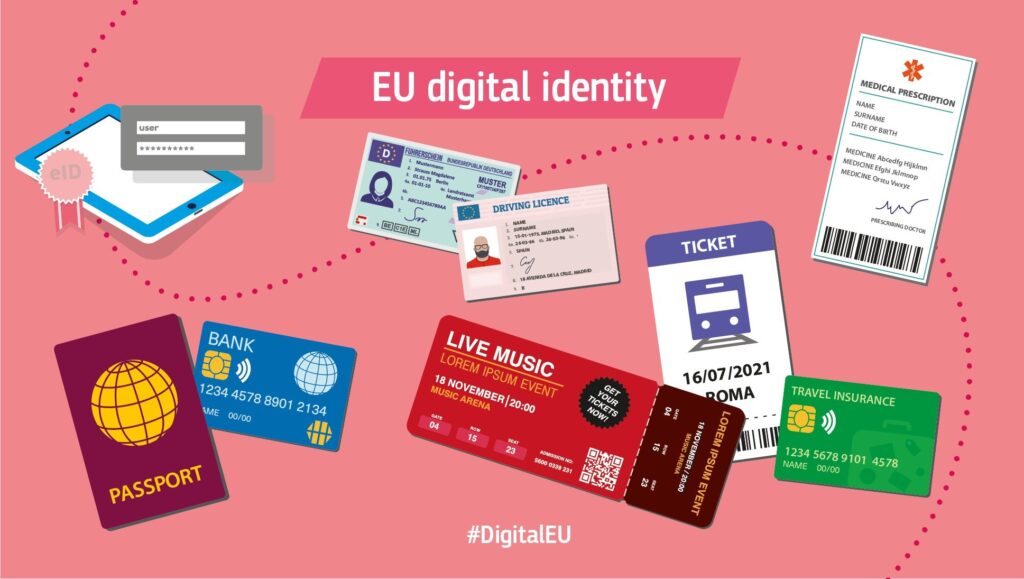 The coronavirus pandemic and the shift towards the use of digital services has shown that this has limitations that need to be addressed urgently. Digital identities will continue to be provided by Member States. The European Digital Identity framework builds on this basis, and extends the functionalities and usability of national eIDs by means of a personal digital wallet.
The EU writes: "There is no time to lose. It is essential that Member States start working with the Commission and the private sector immediately to prepare the implementation of the European Digital Identity framework."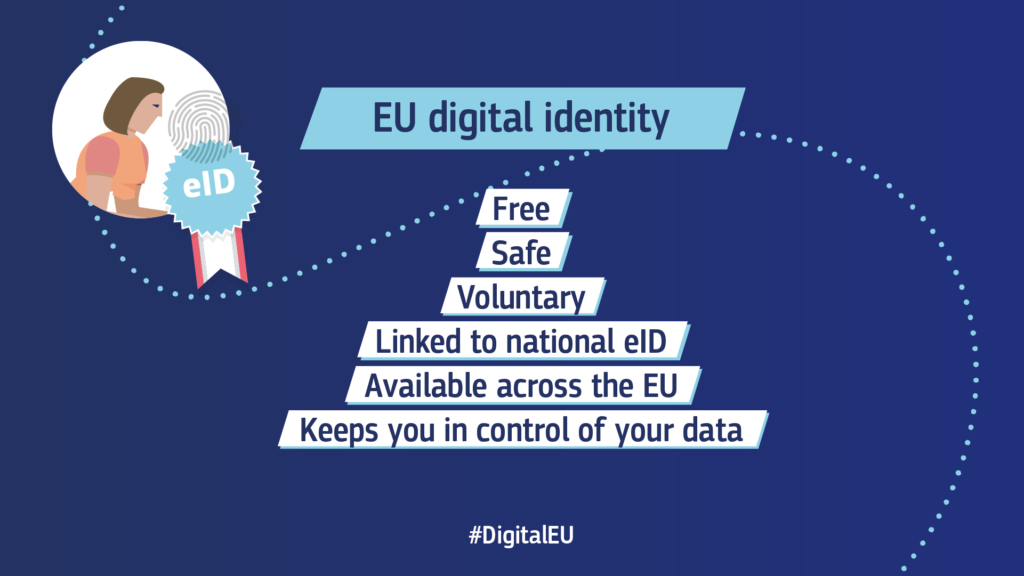 The aim is that by September 2022, Member States, in close cooperation with the Commission, agree on the Toolbox to implement the European Digital Identity Framework and that the Commission publishes the Toolbox in October 2022.
This whole agenda is to adhere to United Nations Legal Identity Agenda, SDG Goal 16.9: By 2030, to provide legal identity for all, including birth registration indicators 16.9.1 Proportion of children under 5 years of age whose births have been registered with a civil authority, by age.
You see digital ID is the infrastructure that will track you and your avatar, your new digital twin in Industry 4.0 as you move about virtually and physically, you will become a hedge fund asset for big bankers and speculators, moving around the prison-planet meta data universe.
Check out this video from Alison McDowell.
She describes social impact bonds which ties into this whole agenda, to examine the ways in which Blockchain could interface with social impact investing to further concentrate power and wealth and exacerbate long-standing forms of global oppression under the guise of philanthropy.
With decentralized blockchain digital identity, we are cuing up big data permanent records for the masses with potentially disastrous consequences. Throw in behavioural deep AI Analytics, we can be easily mass mind controlled. We should not be so naive as they plan to remake the world's social and economic structures around this digital identity code, and what would it mean to live life on a blockchain digital id ledger.
If you accept a Digital ID thinking it is just a Vaccine Passport, you will also be accepting everything else the Government later adds onto this platform, the Government has consistently used a 'foot in the door' strategy and is doing it again and again. Do not be fooled that this initiative is just for the EU or other places, that it will not be coming to the UK, its already in the UK, the platforms are being built as you read this.
Reference Links:
Commission proposes a trusted and secure Digital Identity
Commission proposes a trusted and secure Digital Identity for all Europeans
EU Commission Q&A: Trusted and secure Digital Identity for all Europeans – IEU MONITORING
Identification allows us to prove who we are. That is why we have passports and identity cards in our daily lives. Digital identification helps us save time and simplify interactions. Various private and public providers are currently offering digital identification means, allowing users to access d…
European Digital Identity
The European Digital Identity will be available to everyone who wants to identify themselves for online and offline public and private services in...