The Government has been accused of trying to usher in national ID cards "by the backdoor" after one firm awarded a vaccine passport contract boasted about being able to "redeploy" them into a national identity programme.
Entrust, a global IT firm, was handed £250,000 to provide cloud computing software for the UK Covid-status certification scheme and has already helped roll out national ID systems in Albania, Ghana, and Malaysia.
Entrust is a global leader in trusted identity and payments, it is an Instant ID as a Service (IIDaaS) solution. This cloud-based software offers a simple, secure, adaptable, and efficient way to issue physical and digital IDs using an easy-to-use platform.
This is not the first time either, in May the Government was accused of introducing ID cards in 'by stealth' when ministers signed multiple renewable vaccine passport contracts. The Department of Health and Social Care (DHSC) earlier that month signed a contract with HH Associates, a subsidiary of outsourcing firm HH Global, to produce paper vaccine passports for people who do not have access to a smartphone or computer amongst many others.
It is thought that vaccine passports can be repurposed easily and expanded into privacy-destroying digital ID cards and a steppingstone towards a medical police state.
"You'll understand why it's not just for travel, you can take it and repurpose it to do such things as national IDs and permits" – Entrust writes.
Here are some of the key quotes from Entrust, just one of the company's handed a UK contract to develop the UK's covid certification scheme:
"Consider a national ID strategy. With the infrastructure of vaccine passports, why not redeploy this effort into a national ID program that can be used for multiple purposes for secure delivery of government services, travel, and vaccination." – Writes Jenn Markey.
Entrust is also member of the Good Health Pass Collaborative and ID2020 – an initiative in which leading companies and organizations from the technology, health, and travel sectors are creating a blueprint for interoperable digital health pass systems.'
'A true vaccine passport initiative would be interoperable on a global scale – spanning hundreds of countries and dozens of industries. The closest example of an identity project of this magnitude is today's global passport system.' – Writes Jenn Markey.
It is all about UN Agenda 16.9. 'More than a billion people worldwide are unable to prove their id using traditional IDs, as passports, birth certificates etc. Moving to a mobile-based vaccine passport strategy has the potential to create even greater accessibility gaps.'
They say: Vaccine Passports enable: "Digital signatures, Digital Identity Proofing, Multi-factor Authentication, Adaptive Risk-Based Authentication and Machine Learning. Hardware security modules: This tamper-resistant cryptographic / Blockchain."
Entrust also say 'Together, these secure technologies will underpin the trusted, seamless identity and credential solutions citizens seek to jumpstart their return to normal.' And 'Digital signature technology and biometric scans can validate user authenticity'.
Entrust go into alot of detail about their Digital Travel Credential (DTC) which is a digital abstract of the e-Passport, compliant with international aviation standards defined by ICAO. A digital travel credential tightly binds an individual to their digital identity.
'Enable ease of access to government resources and services, using secure identity credentials provisioned through our intelligent identity platform to reduce identity theft and fraud. National ID and Licenses, Digital Travel Credentials, and digital IDs for public services'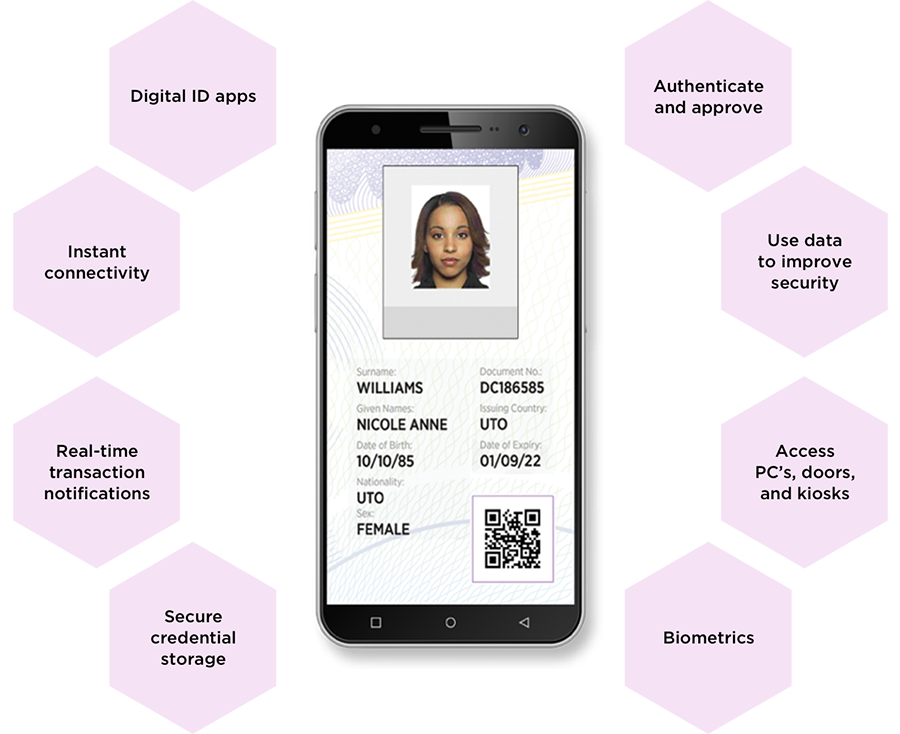 Working towards the global digital citizen:
The contract is due to expire in March 2022, but the government has the option of extending it for an additional year.
Here it is: Covid-19: DHSC: NHSX – Covid Status Certification. £126,132.75 to £250,000, Contract start date 17 May 2021 and Contract end date 31 March 2022, Public Key Infrastructure services for Covid-19 Certification Programme.
Here is their Global Impact Report, talking about the Social Effects and Outcomes of Digital Identity Programs. Massive work with the ID2020 group including development work to help set up Digital Identity and Smart Cities projects.
Other awarded covid certificate contracts can be found here:
[Thread]Since March 2021 the UK govt have signed a number of contracts for services related to the COVID-19 Certification Programme.

This thread contains screencaps of and links to those contracts.

— Luther (@LutherBurgsvik) June 10, 2021
The government has done a deal with Entrust, a company which is openly plotting a route from vaccine passports to digital identity, this only underlines what a serious threat Covid passes would be to our civil liberties and our privacy.
Is the Government building a national ID program?

'I believe they're trying to implement a national ID scheme under cover of the Covid-19 pandemic, to use the NHS app as a vaccine passport is otherwise completely insane.'https://t.co/n8sHLfeIAC

— Sikh For Truth (@SikhForTruth) April 29, 2021
Vaccine passports are the most important aspect of the pandemic. Strategically, they are even more important than the pandemic. This is because they are a platform for a global biometric digital ID platform, and the gateway to Industry 4.0 as advocated by ID2020 and the Rockefeller Foundation.
https://twitter.com/hare_brain/status/1407372254430760962?s=20
Vaccine Passports will pave the way for digital ID: "The concept of vaccine passports exposed consumers to a real-world use case for digital credentials; 65% said they are now familiar with the concept of digital credentials, and 75% would likely accept them."
Vaccine Passports aka. Global Digital Identity. All your ID credentials at hand:
Welcome to the Digital ID Wallet. This is the future they want for us. – Watch this.
The future of vaccine passports will be digital identity as a service. Biometrics and access control technologies. Ultimately our face will be our digital identity.
The whole idea is to merge vaccine credentials with digital ID's, like "Singapore's Health Certs, are integrated with the country's Sing Pass digital identity app: certificates are distributed via registered vaccination clinics, then carried via Sing pass ID or an alternative digital identity wallet."
And in South Korea, its using decentralised digital identity (DID) on blockchain for their Vaccine Passports – a method the developer company says will help standardise the system around the world. A global surveillance model.
In this article: Rethinking Citizenship and Movement in the Age of Digital Disruption it says, "Big data & biometrics are disrupting population governance. Governments turn to digital ID tech and AI to allocate services and welfare ensuring those with a legitimate claim accede to support." It says that "The vaccination passport could come to play a similar role!"
Also: "The challenges with getting populations vaccinated, it's important for individuals to have access to a safe and secure digital identity that enables them to receive needed healthcare services including getting the treatments they need." – Mastercard have said.
So it's not just about this Covid being in your passport it's a way of getting you whole health data online.
Covid Passes are unnecessary, discriminatory and will create a two-tier society, that's a given. They also have no scientific basis, and the government's decision to launch them without telling MPs shows a real contempt for democracy. What is playing out in front of our eyes is an utterly audacious globalist coup against humanity, with normal life destroyed under the guise of 'fighting a virus'. Most western governments are in on it and most political parties in those western countries are in on it too.
They are openly building the infrastructure while at the same time denying its existence or its future use cases, this is utter contempt for how democracy should work.