Vaccine Passports are designed to soften us up for the mass rollout of Digital ID, Central Bank Digital Currencies and a Chinese-style Social Credit System in which anyone who challenges the billionaire-financed technocratic elite will be socially isolated and financially impoverished.
It is increasingly clear that we, even in Western "democracies" are being governed not by our elected representatives, but by a combination of permanent government agencies (the "deep state")—which themselves are often funded in part by corporate interests, very large corporations, and NGOs, foundations, and other non-profits funded by a handful of billionaires.
On August 27th the WHO issued guidance on digital vaccine passports, the agency, which is funded largely by the United States Government, the Chinese Communist Party, and billionaire individuals and NGOs, issued a 99-page document entitled:
"Digital documentation of COVID-19 Certificates: Vaccination Status:"
This work was funded by the Bill and Melinda Gates Foundation, the Government of Estonia, Fondation Botnar, the State of Kuwait, and the Rockefeller Foundation. The Rockefeller Foundation was also the one that established and funded an NGO called "The Commons Project" that now supports its own version of a digital vaccine passport, called "Common Pass."
Its interesting because the state of Kuwait Civil digital ID card system was developed by German defence contractor The Thales Group.
The WHO has recently called on world leaders at the UN General Assembly to focus on vaccine equity, pandemic preparedness, and getting the SDGs back on track. Remembering that the Goal 16.9, is based on digital identity: "By 2030, provide legal identity for all, including birth registration".
Super Thread: #NewNormal Part 1:#COVID19#DnaNudge#HealthPassport#CovidPassTech#COVAX

Using behavioural science, society will be nudged towards routine DNA testing.

To Get Back to the Things we Love. Let's Get Tested. pic.twitter.com/fW33xE9Zz4

— Sikh For Truth (@SikhForTruth) August 12, 2020
Many months ago, concerns about vaccine passports were dismissed as conspiracy theories, but it is becoming increasingly clear that a digital passport was always the end goal of this "plandemic" or at least one of the goals, and perhaps the most important goal to the ruling global elites because its this SDG, which is key in delivering all the others.
The globalist groups actively pushing for vaccine passports include the main proponents of the Great Reset, a plan outlined by World Economic Forum founder Klaus Schwab, which seeks to de-industrialize the West, abolish private property, and introduce biometric ID surveillance. And of course "You'll own nothing" — And "you'll be happy about it."
All these technologies will merge at the intersection of 'Big Data, Big Banking, Big Tech and Big Government'. Your digital ID / Social Credit Score will soon be tied to not only your Internet activity but to your bank account and vaccine status too.
If we then add in the advances in AI and facial recognition and millions of surveillance cameras, then you are talking about a lockdown slave state that makes George Orwell's 1984 look like a picnic in the park.
UN program Project ID2020 is the ultimate game, its complete control by a small power elite over the world's population. It would allow controlling every movement of each one of the 7.9 billion people including everyone's health records, bank accounts, as well as our behaviour in this ultra-controlled society.
We have gone from Three weeks to flatten the curve to the worldwide rollout of Blockchain Biometric Self-Sovereign Decentralised Digital Identity wallets because it's for our protection. This is no coincidence; in fact, their arrival was fore warned.
Biometric ID cards were always on the cards from the get-go and were part of the Governments' overall lockdown exit strategy. On 10th April 2020: Could biometric ID cards offer the UK a lockdown exit strategy? There were fears some would try to sell their proof of immunity as such a system could exempt people from lockdown restrictions.
One of the chief architects of the England NHS vaccine passport was none other than Lord Bethell, Minister for Innovation at the Department for Health and Social Care.
Lord Bethell met with Yoti on 13 April 2020 to discuss COVID-19 certification, and IBM on 20 April 2020. Nadine Dorries, the Minister for Patient Safety at the Department for Health and Social Care, also met with the Behavioural Insights Team on 9 April 2020 to discuss COVID-19 Immunity Passporting. 
On 18 May 2020, Lord Bethell stated that '[the Government's immunity certificate plans] are in development. "We are fully aware of the concerns that he has expressed about their potentially divisive nature, but the public deserves to know whether they have had the disease. We have to use whatever technology we can to help shake off the economic and social effects of this virus. Therefore, we retain an open mind on the use of certification." He said.
The embattled peer has recently quit following scrutiny of over 33,000 emails linked to £90million Covid deals in his private account. His departure comes after he faced calls to resign earlier this year over this scandal.
If this is not some elaborate conspiracy, then vaccine passports enthusiasts and even questioning journalists have failed to provide us with an appropriate answer to this pertinent question:
How did Bill Gates know on 18.03.2020 two days into the first worldwide lockdown? That "Eventually we will have digital certificates to show who has recovered or been tested recently, or when we have a vaccine, who has received it."
Travelling with confidence.

📕 Read more: https://t.co/VIihRPwJPc pic.twitter.com/QmRGhYfURG

— World Economic Forum (@wef) July 30, 2020
It was also last July 2020 when the first prototypes of the vaccine passports began trailing via WEF's Common Pass, and WEF's Known Traveller Digital Identity platform which goes back to 2018. Most of the vaccine passports in the world right now were developed or co-developed by companies very closely involved with the ID2020 Digital Identity Alliance. I.e., Bill Gate's outfit.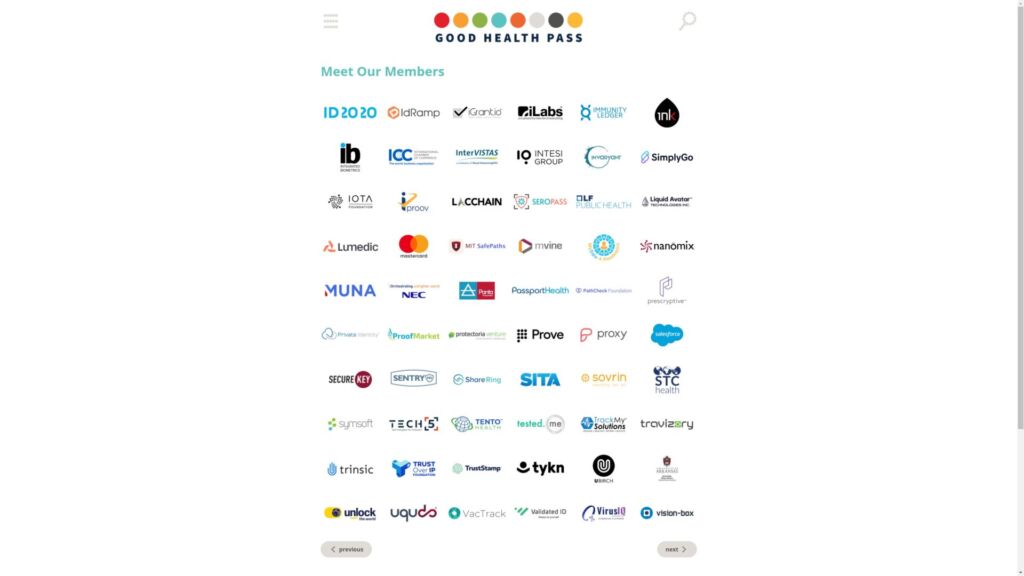 If we look at the NHS Covid app, we have Mvine and Iproov as the main biometric and digital ID developers.
"Mvine Limited announces today its acceptance as a Good Health Pass Support, becoming part of the Good Health Pass Collaborative partnership (GHPC) and taking up an active participation as a GHPC Core Partner."
And:
"There are four priorities for any global identity program: privacy, security, convenience, and inclusivity. Face verification enables those priorities to be met so that individuals can easily share their health credentials without divulging their addresses or other personal data. The Good Health Pass Interoperability Blueprint sets out a clear plan for the safe sharing of data and getting commercial and public buy-in so we can facilitate a return to global travel." — Andrew Bud CBE FREng, Founder & CEO, iProov.
Even the opening page to the ID2020 project's Good Health Pass you can read a blurb from Tony Blair himself, he is closely linked with the organisation.
"Allowing international travel to resume safely means we must take all possible steps to limit the spread of new COVID–19 variants. We urgently require an internationally recognised system of health passes enabling travellers to prove their health status quickly and easily, in a secure and privacy-preserving way. The Good Health Pass Collaborative is doing vital work to develop the standards necessary to support this. Political leaders should now get behind this. The G20 group of nations should commit to establish a network of globally interoperable health passes and set up the working groups needed to deliver it." – Tony Blair – Executive Chairman, Tony Blair Institute for Global Change, Former UK Prime Minister
Digital ID Quotes:
"Secure wallets can store a wealth of personal info, from driver's licences, passports to employment & educational credentials. It's this capability that is the KEY reason the underlying technology is being used to power apps for Covid vaccine records." – Ashley Diffey Head of APAC & Japan Consultancy.com.au.
NHS COVID App is the Digital ID. Nick Mothersha Chief Identity Strategist, Open Identity Exchange says that "Organisations should now plan for mass Digital ID adoption" and quotes the use of the NHS vaccination certification and Government trust frameworks as the key entry points.
"The presence of a Digital ID Wallet on a citizen's smartphone opens a direct communication channel to any government department, citizens can benefit from timely reminders on vaccinations." – The Thales Group
"Mobility credentials are also only one particular use case for digital identity, so governments should build this as a standalone piece of infrastructure to be applied and reused in different cases." – Digital Identity: The Missing Piece of the Government's Exit Strategy – 9th June 2020.
"The need for digital identity is clear. To deal with the invisible threat of a contagious virus, states need a way to embed a visible and verifiable layer of trust into society." "We need a way to grant granular permissions for people to credibly assert that they can safely enter these spaces." – Digital Identity: The Missing Piece of the Government's Exit Strategy – 9th June 2020.
And "Need to reopen economies & societies won't go away, & mobility credentials underpinned by a digital identity can play a vital role in achieving this." – Digital Identity: The Missing Piece of the Government's Exit Strategy – 9th June 2020.
Posted on 31.03.2021: "Digital vaccine certificates are 'an opportunity' to implement privacy-enhancing approaches, such as zero-knowledge proofs, decentralized wallets, and verifiable credentials" – World Bank.
The move to vaccine passports is ultimately the move to self-sovereign digital identity. The user is the API thus training us to show our digital credentials at each digital and data check point.
The plans being laid by 'the experts' are aimed to constrain our 'individual freedoms' by subjecting us to a system of 'high-tech surveillance including biometrics' and one that disturbingly looks and smells like the tyrannical Chinese social credit system.
Current State:
Vaccine Passports are being prepared for mass rollout in the UK this Winter under the Government's Plan B proposals.
The Health Secretary Sajiv Javid has hinted that vaccination certificates would be deployed into the hospitality sector. Vaccine passports could be introduced across pubs in England he said. He strongly hinted vaccine passports may be required in pubs in England if the Covid infection rates soar.
If this is the case, then it's looking like the following article was 100% correct, that "All the measures are aimed at two things, Vaccine Passports and Lockdowns starting next winter 2022, "The goal is to have the public, back in their box." – A Whitehall source said in May 2021. The same article correctly predicted that the original June 2021 reopening would not be allowed to go ahead.
Nightclubs are an easy starting point; young clubbers bopping until dawn will be low priority to most of us, but once this system is established with new learned behaviours; then the principle will become harder to resist elsewhere. Vaccine passports are a conspiracy against freedom.
In a new policy white paper titled 'Pandemic to Endemic: The Race Against Time' posted on: 19th September 2021 by the Tony Blair Global Think Tank The Institute for Global Change. – This think tank has connections with Governments across the world, and its no coincidence that many of the policy recommendations outlined here eventually become de-facto government policies.
Tony Blair has called the use of the NHS Covid Pass as "The central key policy required to avoid further lockdowns".  And be prepared to be geo-located: (Vaccine Passports): "They are the only tool that allows us to show that those who have the virus and need to stay at home actually are at home, and that those who are free of the virus are able to move around freely." Tony Blair wrote.
Other policy recommendations outlined in the paper include:
On Masks: "To reintroduce mandated mask-wearing in large indoors spaces and on public transport and encourage mask-wearing when interacting with vulnerable family members."
On Children: To "Vaccinate Children Aged 12 to 15 as Quickly as Possible." "Vaccination to be extended to children under 12 (9.6 million children) in order to further reduce transmission in schools and between young children and at home."
On Vaccine Mandates: "Vaccine mandates could include health-care workers or all government employees."
On Lockdowns: "Introduce Circuit Breakers: Our modelling suggests if cases double and boosters aren't rolled out, there will be a significant number of fully vaccinated people entering ICU."
On Vaccine Passports: "Covid Passes are the central plank in ensuring future lockdowns are avoided. They are the only tool that allows us to show that those who have the virus and need to stay at home actually are at home, and that those who are free of the virus are able to move around freely."
Covid Pass are to be expanded just like France: "In the UK, individuals should be able to present the NHS Covid Pass if asked to do so at public places such as cafes, restaurants, cinemas, large indoor gatherings and sporting events."
And the most frighting aspect of the report is a bleak future where we will need to be patched / upgraded, using new Nanopatch Technology.
Here's the full excerpt:
"Investment from late 2020 by the US-based Biomedical Advanced Research and Development Authority into Australian biotech company Vaxxas suggests that the market for needle-free vaccines has been warming up. The deal, which will see $22 million invested over a three-year cycle into the company, will facilitate the phase 1 trial of Nanopatch, a high-density micro-array patch (HD-MAP) for the delivery of adjuvanted and unadjuvanted influenza vaccines.49 Financially backed by Merck, the World Health Organisation and the Bill & Melinda Gates Foundation, Vaxxas's dry-coating technology offers a further solution to complex logistical "cold chains" created for the transport and storage of vaccines. While market incentives to scale up research of Vaccine MicroArray Patches (VMAPs) have been limited, endorsement by UNICEF, for example, underlines real demand for the expansion of self-delivered immunisation coverage. Investing in such innovative vaccine technology, which can be administered easily and swiftly in a cost-effective manner, is a crucial next step in managing the pandemic and future pandemics."
No Evidence:
No one has explained, logically, how there will be any incremental benefit from the vaccine passports and these vaccine mandate rules. Unless… unless the point of the rules is to punish the unvaccinated through inconvenience and to divide us. Maybe that's it.
The Wales Technical Advisory Group Advice on Vaccine Passports document states cleary that "Even with careful planning and application there may not be a net benefit to the introduction of immunity certification."
No net benefit. So what is their point? Except for the fact digital id schemes rollout worldwide and shutting out millions in participating in society.
While governments around the world are going full steam ahead with their plans for vaccine passports, two key things have occurred that blow irreparable holes in the whole argument. First, more than fifteen studies now show the natural immunity you get after recovering from COVID-19 is far superior and longer-lasting than what you get from the COVID vaccine.
Secondly, new lawsuits have challenged vaccine requirements that fail to accept natural immunity as an alternative to the COVID injection. Other lawsuits highlighting the illegalities of vaccine mandates have also been filed.
There is no data suggesting that vaccine passports work, says Theresa Tam Canada's chief public health officer, she told reporters that there is currently no evidence that the 'vax pass' system boosts vaccination rates.
And recently a hot mic caught an Israeli Health Minister admitting that the vaccine passports are really about coercion. Officials' were unaware comments were being broadcast live on tv.
Tracking:
The Government has signed contracts worth more than £75m on the UK's vaccine passports scheme. Contracts published online show the Government signed 13 different deals with companies for work on the vaccine passport scheme over the past few months, despite ministers claiming the plans to make Covid passes mandatory were being scrapped.
You can read more on the contracts here:
Government issued QR-code health passes could represent the first step to implementing a Chinese-style social-credit system. Imagining how this might work shows its potential for truly frightening consequences. As last week we learnt that the NHS app secretly shares facial recognition data with Police for 'Algorithmic Discrimination'.
While it is possible to use separate means of identification to verify the app, the software has facial recognition set as the default, developed by the company iProov, which according to a report in The Guardian, is linked to Conservative Party donors.
According to Breitbart the App records a video and sends the result to iProov to compare the user's face against government ID photos to prove they are indeed who they say they are. The Smartphone App also records information such as date of birth, postcode, phone number, and either a photo of a passport or driving licence.
An expert in surveillance law warned that domestic and foreign spying agencies will likely try to obtain such data, saying: "If GCHQ acquired it and it was of use, the likely position is that they would share that with the [US] National Security Agency."
Responding to the report, the lead researcher for the civil liberties campaign group Big Brother Watch, Jake Hurfurt said: "We're deeply concerned by the secrecy surrounding facial verification and data flows in the NHS app, particularly given the involvement of a private company."
He added: "It raises questions about how private and secure anyone's information is when using facial verification and the NHS login. Anyone who sends personal information to a private company, at the encouragement of the NHS, has a right to know exactly what happens to their data."
Andrew Bud has also spoken of his desire for facial recognition to be used in more settings in the UK, including on the door of venues such as nightclubs.
The iProov and Mvine vaccine passport solution uses facial #biometric authentication technology to identify it is you, along with checking your vaccine or test status is up to date. pic.twitter.com/rYLaHmApge

— Sikh For Truth (@SikhForTruth) July 21, 2021
NHS Digital said it had not published its contract with iProov "for security reasons". It also cited security as a reason for not publishing a data protection impact assessment (DPIA) of the NHS app, the document that explains how individuals' information will be used, stored and protected.
Resistance Grows:
No way!! Now NYC rises.

1000s take over Time Square in NYC for the biggest protest against vaccine mandates and Vaccine Passports seen in the USA. #NYC #Corona #freedomrally #Together #NoVaccinePassportsAnywhere https://t.co/7OVhkycgYP

— Sikh For Truth (@SikhForTruth) September 18, 2021
All over the world we are seeing more resistance against vaccine passports. 1000s take over Time Square in NYC for the biggest protest against vaccine mandates and vaccine passports seen in the USA. Thousands of anti-vaccine passport protesters took to Times Square to condemn New York's COVID vaccine passport mandate with one woman's poster reading: 'My Body. My family. My choice. F*** your mandate!'
"So number 10 was trying the vaccine passport system at the gate when they had a reception for Tory MPs where you had to show your QR codes. But the Tory MPs stood there and said well we're not coming then and Number 10 folded."pic.twitter.com/TwYiBwUUKP

— Sikh For Truth (@SikhForTruth) September 14, 2021
"So, number 10 was trying the vaccine passport system at the gate when they had a reception for Tory MPs where you had to show your QR codes. But the Tory MPs stood there and said Well we're not coming then and Number 10 folded."
Everyone needs to boycott the enforcement of vaccine passports, if no one enforces it then the whole project folds. It may be that simple and if they do enforce it then boycott venues on mass.
Reject The Vaccine Passport Divide:

We say NO to a "Two-tier #COVID19 checkpoint society".

'Divided we fall united we stand.'#NoVaccinePassportsAnywhere #digitalidentity #togetherhttps://t.co/tR9R5GS0Vu pic.twitter.com/aYKvGt7juh

— Sikh For Truth (@SikhForTruth) September 18, 2021
We must prevent their war strategy of "Divide et Impera" – "Divide and Rule" from taking hold. Instead, those who are "vaccinated" should unite with the non-vaccinated in solidarity to fight the common enemy.
The Swiss have also installed their own tables and chairs in front of closed off bars and restaurants in Winterthur Switzerland due to the country's segregationist Covid-19 Vaccine Passports.

Divided we fall united we stand. pic.twitter.com/yhd49CTOv2

— Sikh For Truth (@SikhForTruth) September 15, 2021
If 2021 was the year of the vaccine passports then 2022 will be the year of extraordinarily intrusive unjustified discrimination, inequality, unethical medical coercion. Don't let them try to justify it and dress it up in any other way.
Reject the vaccine passport divide: We say NO to a "Two-tier COVID19 checkpoint society".
The above website explains how we can reject the divide by creating lists of businesses and decision-makers and email them the 10 reasons against vaccine passes.
Protest on the grounds against vaccine passes and refuse to show your pass if you are vaccinated. Even start a website like this one or an app for your own country to support. Businesses must resist the vaccine passes.
We need to do all that we can, by exposing the truth on the real digital ID intentions behind vaccine passports because right now our freedom's are on a knife edge.
Once people's vaccine passports expire six monthly and transform into full digital ID with access controls determined by biometric face scans and with their data held in the Blockchain with AI smart contracts. They can pretend to themselves that they are now safe, but then the job is complete, we are digitally trapped.
Freedoms will now only be made available via a subscription service. pic.twitter.com/gGohiSTmq6

— Sikh For Truth (@SikhForTruth) September 4, 2021