🚨 BREAKING | An £18m contract awarded to @netcompany_uk from @DHSCgovuk for an #NHS #CovidPass 'live service' incl. op management.

Summary:

✅ £212m for @SercoGroup Test & Trace
✅ £2.46m for the NHS #COVID19 app maintenance

This isn't over yet.

(Credit: @LutherBurgsvik) pic.twitter.com/0b4UtcJx5L

— STOPCOMMONPASS ❌ (@org_scp) April 5, 2022
Four weeks ago, the NHS COVID-19 App received a 10-month, £2-million-pound contract and just Two weeks ago, COVID contact tracing received a 2-year, £212 million pound contract. This week it's the turn of the NHS COVID Pass to receive a long-term high-value contract, and make people wonder why.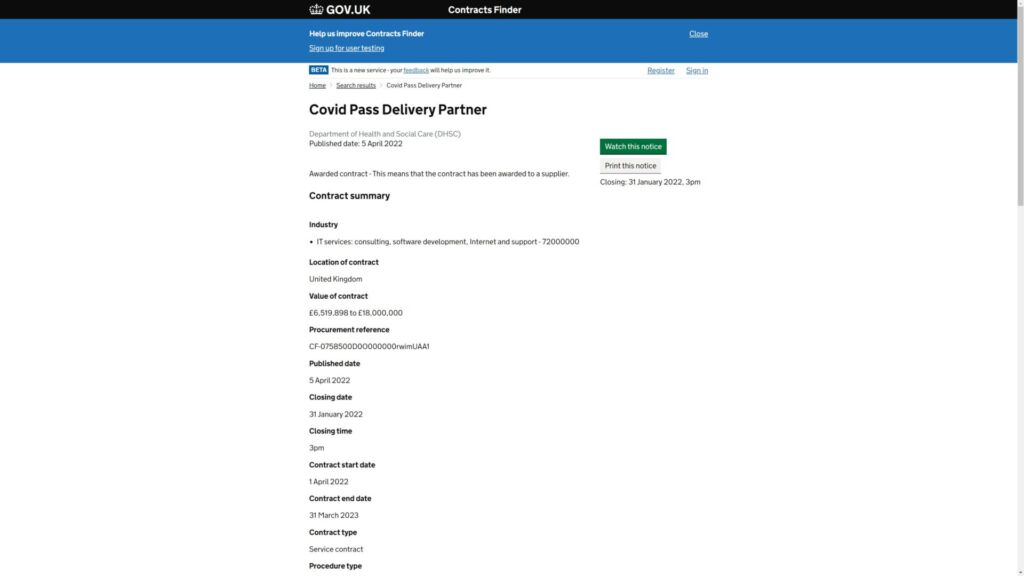 On April 1st, 2022, the government awarded Netcompany a contract to: "Deliver the NHS COVID Pass App live service including operational management, incident management & support, and app development services."
The contract is 12 months long with the option to extend it up to an additional 24 months, taking it to a potential total of 36 months. The contract has an estimated value of £5 to £18 million pounds depending on its length.
It was Netcompany who were awarded a contract to develop the NHS COVID-19 contact tracing App last month. They are also the same company responsible for the Scottish governments COVID App, whose costs recently doubled from £1.2 million pounds to £2.4 million pounds.
In February the government published its plan 'COVID-19 Response: Living with COVID-19' which stated that the COVID Pass would cease to be used domestically but would continue to be available for international travel:
"From 1 April, the Government will remove the current guidance on domestic voluntary COVID-status certification and will no longer recommend that certain venues use the NHS COVID Pass. The NHS COVID Pass will remain available within the NHS App for a limited period, to support the use of certification in other parts of the UK. The NHS App will continue to allow individuals access to their vaccination status for international travel, as well as their recovery status for travel to those overseas destinations that recognise it."
Taken at face value this statement means that the potential, £18 million pound contract for the NHS COVID Pass will only be used to maintain it for international travel. But this begs the question, why does the COVID Pass need an additional £18 million pounds invested into it when it is perfectly good to use for international travel now? It also begs the question, why does it need to have 18 million pounds invested in it when more and more countries are scrapping their COVID safe entry requirements?
The list of countries that have abolished the requirement for travellers to present a vaccination, recovery or test certificate upon entry grows week by week with Latvia, Poland, and Sweden being some of the most recent. This list will only increase as the number of Covid cases and hospitalisations, and thus the reason for the restrictions, falls.
Given this trend the justification for the UK government to maintain the NHS COVID Certification system for the long term on grounds of international travel becomes weaker with each passing week.
Even if the UK government wanted to maintain the system for purely precautionary reasons (e.g., as a tool to deal with a new so-called 'COVID Variants of concern') then they could do this on a shorter 3 or 6-month contract rather than long 12-month contracts we have seen.
Indeed, a 3- or 6-month long contract would be in keeping with the governments broader approach to COVID in treating it as a short-term emergency. The prime example of this being the Coronavirus Act which needed to be renewed by a Parliamentary vote every 6 months.
However, they have not gone down this road with this most recent contract. Nor have they with other recent contracts such as another one awarded to Netcompany for the maintenance of the NHS COVID-19 App (contract end date December 2022), or a £212 million pound contract awarded to SERCO (contract end date February 2024).
This is what gives many people cause for concern, and rightly so: Just because we are not seeing or hearing about the COVID Pass on a day-to-day basis does not mean it is gone away. Just because the government has stopped advising that it be used in domestic settings does not mean it is gone away. It simply means that it is no longer on the stage, front, and centre.
https://twitter.com/SikhForTruth/status/1502259385443172354?s=20&t=abhU0jf9BKUF9lIlWRnO_A
David Nolan of Stop Common Pass summed it up best on a recent episode of Rise with Sonia Poulton, specifically in relation to the NHS COVID Pass, when he said "Once the road is built it is rarely unused".
Also take this, further wastage of the public's money on the Covid Vaccine Passport App, which doesn't seem to be going away anytime soon.
The NHS Covid Pass system has undergone a £300,000 assessment of its cybersecurity set-up and key risks. Newly published commercial documents reveal that, on 18th October 2021, the Department of Health and Social Care signed a deal with IT consultancy Mason Advisory.
The engagement, awarded via the cloud support lot of the G-Cloud 12 framework, ran until 31 March 2022, and covered the provision of the tech firm's 'cybersecurity assessment and implementation' service.
According to the service's listing on the Digital Marketplace platform, it offered customers support with the "development and review of cyber strategy and roadmaps" as well as "detailed cyber maturity and resilience assessments".
Once the road of Vaccine Status Certification (Vaccine Passports) is built it is likely that the UK government, along with the EU and possibly others, will want to maintain it even though it's raison d'etre has long since passed on, much like income tax is still with us today, 180 odd years later, despite initially being a 'temporary measure'.
If @BorisJohnson won't rule out another #lockdown, he won't rule out #VaccinePassports

✅ £212m for @SercoGroup Test & Trace for two years

✅ £2.46m for the maintenance of the #NHS #COVID19 app

✅ £18m to 'deliver a Covid Pass 'live service' incl. operational management pic.twitter.com/8k6wjrFzV7

— STOPCOMMONPASS ❌ (@org_scp) April 8, 2022
One of the many reasons that could be behind the retention and maintenance of COVID-status certification infrastructure, is that governments are trying to buy time as other domestic and international restrictions continue to relax.
You may ask what they're buying time for. We suspect this is to ensure that specific digital wallets and alternative Digital ID systems are in place and operational before the Covid theatre fully comes to an end, so other work in this 'Digital Transformation Age' can continue. If you look at the dates involved with local and international governments and their 'Digital Transformation' plans, there is undeniably some form of timeline or checkpoint to meet.
We see this with the European Commission and their proposal to extend the EU Digital Covid Certificate (EU DCC) by one year until mid-2023. Current legislation in place is set to lapse by the end of June 2022. Coincidentally, the European digital wallet or e-ID that was announced in mid-2021 and was expected by now, isn't set to rollout & go live until mid-2023.
Therefore, we need to continue to be concerned about the long-term, high-value contracts that the government keeps awarding as they simultaneously say that they are winding down these services.