Transhumanism is a philosophical and scientific movement that advocates enhancing human capabilities and improving human conditions through the use of current and emerging technologies. These technologies include genetic engineering, cryonics, artificial intelligence, and nanotechnology.
Transhumanism: "The richest and most powerful people on the planet are currently working on tools that will alter human nature forever." – @EvaVlaar
My video edit last week of Eva Vlaardingerbroek perfectly explained what transhumanism is and what Elon Musk's other company Neuralink is all about.
Elon Musk started Neuralink in 2016 to connect the brain to a computer. Musk calls it "a Fitbit in your skull with tiny wires," an ultra-high bandwidth brain chip connecting humans, computers, and artificial intelligence.
"We are now confident that the Neuralink device is ready for humans, so timing is a function of working through the FDA approval process" – Elon Musk
Exciting Neuralink update in 30 mins! https://t.co/5NYAyjP8mh

— Elon Musk (@elonmusk) December 1, 2022
Yesterday he announced to the world that the Neuralink Show and Tell Fall 2022 livestream was available.
Elon Musk announced that his Neuralink's brain chip will start human trials in just 6 months. Musk said his company is developing brain chip interfaces that could help disabled patients move and communicate again.
Neuralink is based in the San Francisco Bay Area and Austin, Texas, and has been testing on animals as it seeks approval from the FDA to start human trials.
Musk emphasized the speed at which the company is developing its device in a presentation at Neuralink headquarters that lasted nearly three hours.
"Progress at first, particularly as it applies to humans, will seem perhaps agonizingly slow, but we are doing all of the things to bring it to scale in parallel," he added. "So, in theory, progress should be exponential."
Neuralink's first two applications will be restoring vision and allowing people who can't move their muscles to do so, Musk said. "Even if someone has never had sight, like they were born blind, we believe we can still restore vision."
Though this technology has been marketed for the purpose of fixing vision and disabilities, there are deeper more sinister uses for this potential technology. Like big tech controlling and having full access to our thoughts, how we feel and having the ability to switch us off at will.
We're moving in this direction. Man and machine merge. Eventually, these people will want to become gods in the cloud.
"There is no doubt that transhumanism will be presented as the holy grail, but in fact it is a poisoned chalice:" – @EvaVlaar
The Transhumanist Elon Musk will supply Globalists with the technology they need to invade our brains and control us.
In 2017 Klaus Schwab asked the Google co-founder Sergey Brin if he could envision a world with everyone wearing brain chips at the World Economic Forum (WEF).
"Can you imagine in 10 years when we are sitting here and have an implant in our brains."

~ Klaus Schwabpic.twitter.com/973Hk5UI04

— James Melville (@JamesMelville) November 25, 2022
Digital tools for Big Data are developing quickly, said the WEF executive.
"Can you imagine that in 10 years, when we are sitting here, we have an implant in our brains, and you all will have implants – we can measure your brain waves, and I can immediately tell how people react, or I can feel how people react to your answers? Is that imaginable?"
"That's imaginable," Brin replied, then sketched a transhumanist future where consciousness is shifted to machines.
"You're basically transplanted to the internet to live forever in the digital world," he said. "In your biological incarnation, you can then become very old."
Musk has expressed the same sentiments as WEF Founder Klaus Schwab in 2017.
Musk explained at the 2017 World Government Summit in Dubai that AI is progressing so quickly that humans will have to merge with digital intelligence. "Over time, we will probably see a closer merger of biological intelligence and digital intelligence."
Also let's not also forget that in 2019 Yuval Noah Harari said that us humans are on the verge of merging with machines.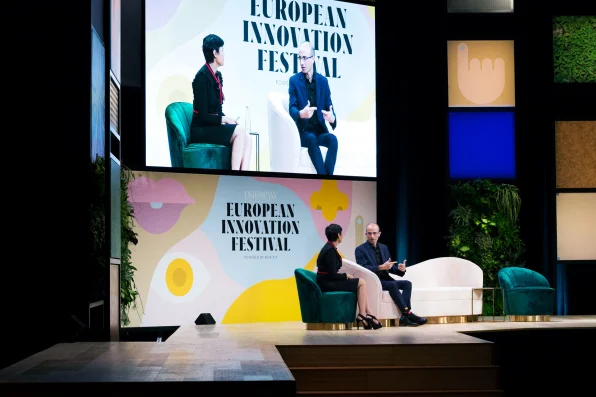 He said: "It's increasingly difficult to tell where I end and where the computer begins," Harari said. "In the future, it is likely that your smartphone will not be separated from you at all. It may be embedded in your body or brain, constantly scanning your biometric data and your emotions."
Harari said that it would be a huge revolution if we were able to integrate these technologies into the human body-through chips in our brains or bodies. As a species, we've always been able to manipulate our environment and create tools that improve our lives. We couldn't manipulate ourselves until now.
All humans will be controlled once Elon's three platforms, Twitter, Starlink, and Nearalink, are combined. There will no longer be a need for mobile phones or apps. Because by 2030 the smart phone as we know it will become obsolete.
"All technologies would be directly embedded into our bodies." – Pekka Lundmark – President & CEO of Nokia. WEF 2022
The continued acceleration of technology transformation will mean the 'Smart Phone' will become obsolete, "All technologies would be directly embedded into our bodies." – Pekka Lundmark – President & CEO of Nokia. #WEF #WEF22 #Davos2022 #6G #Metaversehttps://t.co/XhdIqliqWL pic.twitter.com/pxGPp4gEkx

— Sikh For Truth (@SikhForTruth) May 27, 2022
"We don't take our enemies seriously enough. We can't imagine there are people on this earth who want to create a new human, a new world that is evil" – @EvaVlaar
By 2023, transhumanism – the fusion of humans and machines – will start to become a reality. My guess is that those who accepted the gene therapy and vaccines. Those who accept the latest smart phone technology, will be the first to become a new species of humans. Human 2.0.
It's an absolute necessity that we have a transparent, extensive & in depth societal discussion about the ethics of Transhumanism, before Neuralink enters the market. Changes are about to be made that may forever alter human nature. Caution is crucial. @elonmusk @jordanbpeterson

— Eva Vlaardingerbroek (@EvaVlaar) December 1, 2022