A digital identity encompasses everything that makes you unique in the digital realm, and it is a system that can consolidate all your online activity data, including which websites you visit, your online purchases, health records, financial accounts, and who your friends with on social media.
Coronavirus has been a shot in the arm for the industry with vaccine passports for travel, dealing with voter fraud or online access to new services helping to fuel its adoption. Some are saying that five years from now, many more of us will be using digital channels to verify our identity daily, which is all well and good, but it's not the technology we are afraid of, it's the people behind it, it's their intentions and what it would actually mean for our day to day lives.
"We foresee over 6.2 billion digital identity apps in service by 2025. This will capitalise upon how important the concept of identity is to our everyday lives," says Nick Maynard, lead analyst at Juniper Research.
It is also a scheme that, when used by authoritarians like in Communist China, enables a dystopian social crediting system where freedom is granted and restricted based on how citizens behave and who they associate with in both the physical and digital worlds.
The World Economic Forum has been pushing digital identity under the banner of its great reset agenda since its official launch in June, 2020, in which the globalist think tank envisions worldwide adoption of digital IDs through public and private partnerships. 'Ensuring that everyone can participate in the digital society through identity and access mechanisms that empower the user.' 
And:
"I'm hoping with the desire and global demand for some sort of vaccine passport — so that people can get traveling and working again — will drive forced consensus, standardization, and frankly, cooperation across the world," Sandra Ro, CEO at Global Blockchain Business Council.
In the UK eleven times the government has ruled out vaccine passports and then they said they are "Considering" Them. And most recently Vaccine passports may be needed for the long term.
"At the time, our worst fear was that it could eventually hold people's medical records. But that is the starting point for 'this' scheme. Coupled with that would be lots of information about you, some kind of biometric aspects and, if it were to be combined with the NHS Test & Trace App, a record of many of the places you have visited. It would combine all our worst nightmares in one place." – says Silkie Carlo
However, using an app associated with the NHS – arguably our most-trusted institution – would be the perfect way of introducing such a centralised database without the public even noticing. It already has our names, addresses, NHS number, and medical history. As a database containing our vaccine passport it could also incorporate our travel details, passport pictures (or other biometrics), and then, who knows, your National Insurance number, tax details and whatever else the government chooses to pile on to it.
When I asked, 'is the Government building a national ID program'? on Twitter, I got a strong resounding 'No' from Matt Warman MP who is the UK Minister for Digital Infrastructure.
No.

— Matt Warman MP (@mattwarman) April 29, 2021
On Friday the UK hosted its first indoor mass gathering for more than a year as 3,000 revellers packed into a warehouse in Liverpool. Clubbers in Liverpool enjoyed the 'first dance' in the UK without having to wear masks or socially distance. Ministers and scientists are increasingly confident mass gatherings will return without social distancing restrictions this summer with the use of 30-minute Covid tests in everyday life.
Just throwing my hat into the argument ..I won't be playing at any event that insists on vaccine passports (cont) https://t.co/LfCmN8RdbH

— CREED MC (@mccreedmusic) April 29, 2021
Covid tests for everyday life? It was last October when Lord Bethell a health minister suggested "that we will all soon be able to test ourselves for Covid-19 when we brush our teeth in the morning" and this goes hand in glove with the most recent edict that "every adult in the UK will be asked to 'play their part' and test themselves for coronavirus twice a week to help ease the nation out of lockdown."
Health minister: Daily swab could reduce need for social distancing
Lord Bethell said the Government was exploring technology which will allow people to conduct a test every day. This will mean they can safely stop social distancing without fear of putting others at risk.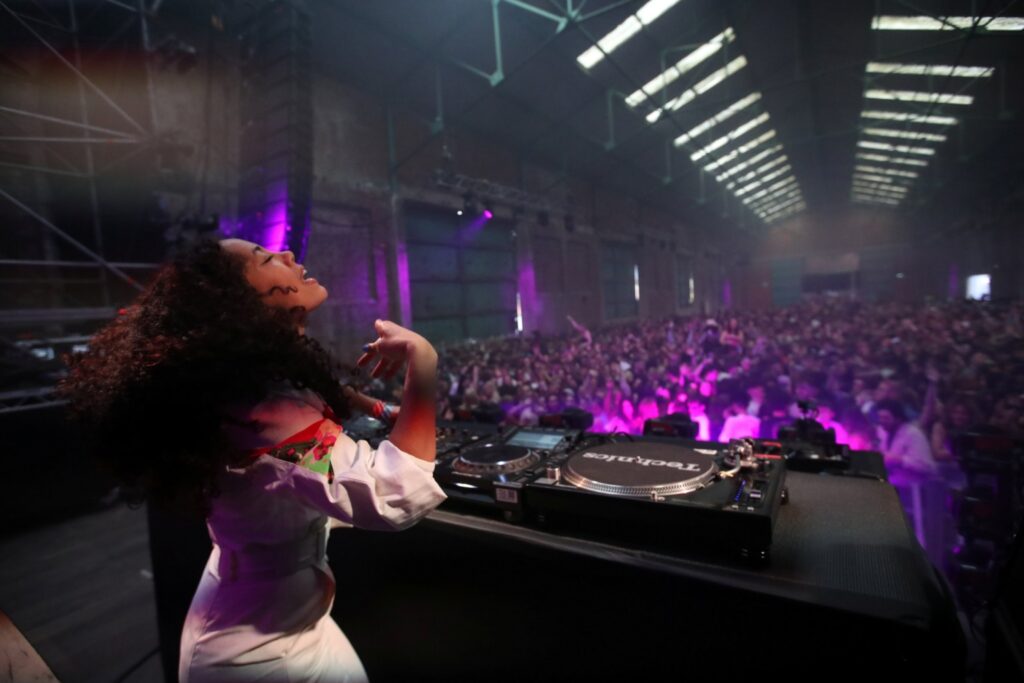 DJ performs at a nightclub, as part of a national research programme assessing the risk of the coronavirus disease (COVID-19) transmission, in Liverpool, Britain April 30, 2021.
At the gates to the warehouse, it was an offence to hug strangers. But inside there were no such rules, like stepping into a time machine to 2019, with people free to party like there is no pandemic.
Getting entertainment and nightlife venues up and running is a central part of Prime Minister Boris Johnson's "road map" for reopening the economy. The target is June 21, and the government has signaled that nightclubs may need to demand some form of Covid certification, either a negative test result or proof of vaccination, to grant entry.
"Britons should expect to show proof they do not have Covid before heading to the pub, or other spaces without social distancing for the foreseeable future". Said Professor Iain Buchan, Dean of the Institute of Population Health at the University.
No to Lockdowns. No to Health Passports. No to Tests for healthy people. No to Rule of 6. No to Masks. No to accepting Lies and No to Untested Experimental Vaccines Just say No. #openforall

— Norris Da Boss Windross (@NorrisWindross) April 29, 2021
Professor Iain Buchan founded and led Manchester University's health informatics group, raising over £100m of research grants, and co-founding the UK's main health data research facility. He also spent a year at Microsoft Research Health Intelligence shaping a 10-year view of how artificial intelligence might transform healthcare in the future.
Senior No 10 officials said: "Testing is going to be crucial across all these events, that is why the requirement to take a lateral flow test in advance is there in all the trials even though the other details are different."
"A negative result is a condition of entry. Yes, this is a party – but it is also a petri-dish." – Professor Iain Buchan
'Passes for pints' are back on the table.

For the 'forseeable future', you may be required to take a rapid test to access certain areas of society.

And how can you display this – #VaccinePassports

Are you ready to #boycott? We are ✊https://t.co/HFL0DkqFjd

— STOPCOMMONPASS ❌ (@org_scp) April 30, 2021
The key logistical question is how do these 3000 people prove their current health status? It can only be in the form of a negative test result displayed within an app on their phones, the NHS app? Testing is just the start of this ongoing nightmare, along with regular vaccines that will give youngsters their freedoms.
Chicago Looking at 'Vax Pass' for Concerts and Other Events
(Chicago Tribune/MSN) – Chicago's top public health official on Tuesday said she expects the city to debut a form of a vaccination passport requirement next month for access to events geared toward young adults. Chicago public health Commissioner Dr. Allison Arwady gave few details about the initiat…
A similar story is coming out of the US: Chicago is looking at a 'Vax Pass' for concerts and other events a form of a vaccination passport requirement next month for access to events geared toward young adults. dubbed "Vax Pass" and roll out in May as a means to encourage vaccination particularly in younger people in exchange for attendance at concerts or other events as the second pandemic summer begins.
"You get a vaccine, you'll be able to get into a concert or get into an event," Arwady said. "(We're) really thinking, particularly for younger people, how can we make vaccine something that people are excited about getting?"
Another campaign called "Vax and Relax" also will encourage people to get shots — this time with the reward of free haircuts, manicures and more through partnerships with salons, Arwady said.
Its important to understand the nudging tactics. as "Vaccine passports can be used as an incentive to change behaviours. They not only provide some direct benefits, but they signal what society expects from individuals. They exemplify a social norm that individuals are expected to comply with" — Joan Costa-Font, London School of Economics.
A global digital identity: 'It's also essential that the UK and other national governments design their domestic health pass systems in such a way as to be able to interoperate internationally, without the need for any additional bureaucracy.' From Institute Global
Health Passes: The Next Steps for Covid Recovery
Over the past few months, health passes (or Covid certificates, or health passports) have become the subject of intense debate. Critics have raised questions about both the principle and the practicalities of health passes; at the same time, polling is consistently showing that the public supports t…
As Neil Clarke so eloquently puts it in his latest article "if vaccine passports are introduced, even for the most limited circumstances (like large events), we can be sure of two things. The scheme won't be 'limited' but will be expanded over time into a full-scale digitalised Chinese-style social credit restricted access system, AND it won't be 'temporary'."
Our guests wont stand for vaccine passports and nor should they have to. Risks are tiny due to excellent vaccine prog. There is no difference between a pub a bar and a nightclub at midnight! Stop singling out clubs built on your personal experiences of the 1980s #openforall

— Peter Marks (@petermarks100) April 29, 2021
The world we are heading towards is one where vaccine passports are merged into single solutions such as this one, the Thales' Digital ID Wallet represents the next generation of Mobile ID, creating a secure, smartphone-based home for all the owner's digital identity credentials.
Vaccine Passports are being rolled up into integrated digital travel ID's. They are being folded into single established digital ID platforms for holiday bookings, check-ins, airport and hotel experience. See here:
Traveler ID | Digitalize your ID & document verification process
A platform enabling travel companies to digitalize and automate traveler identification and document verification across the traveler journey.
And, the real opportunity is in spurring digital transformation toward the "global digital citizen" initiatives – national ID programs that incorporate digital credentials in ways that streamline travel and access to government services while protecting privacy.
Proxy | Proxy ID
Proxy empowers people with a digital identity that transforms how they access and experience the world around them.
They are preparing us for three outcomes and in this order. one, to prepare for a potential new June summer third wave on par with the June 21st grand reopening date. Two, vaccines for our children are on the way possibly by the winter months. Three, vaccine passports will be needed to go to on holiday, for all public events and once that has been forced through, it will be mission creep into offices and workplaces.
Four reasons you might need a vaccine passport when you return to the office
Even if the government doesn't mandate vaccination to allow offices to reopen, employers could make life hard for those without one
The globalists are forcing us to onboard onto their digital identity platforms which will be interoperable with national domestic databases, this is to accelerate the push for industry 4.0 with a brand-new set of digital services and the automation of old ones. Vaccines are the carrot, with no vaccine then only limited services are available. Thankfully, the revolution and push back is already under way. But it's our kids they will target with both the technologies and the vaccines and in a next few years they will be nudged to believe that this is all perfectly normal.