A document produced for the UK Government entitled 'Summary of further modelling of easing of restrictions – Roadmap Step 2' advising them on the consequences of reopening the country has declared that a third wave is inevitable and that it will be the fault of children and those who refuse the experimental Covid-19 vaccines.
The paper suggests "that the resurgence in both hospitalisations and deaths will be dominated by those who have received two doses of the vaccine, comprising around 60% and 70% of the wave respectively."
The modelling was presented to the UK's top scientific advisory body Sage by one of its sub groups, the Scientific Pandemic Influenza Group on Modelling, Operational (SPI-M-O). This committee of academics has done modelling work throughout the pandemic and has looked at the impact vaccination will have on hospital admissions, infections and deaths.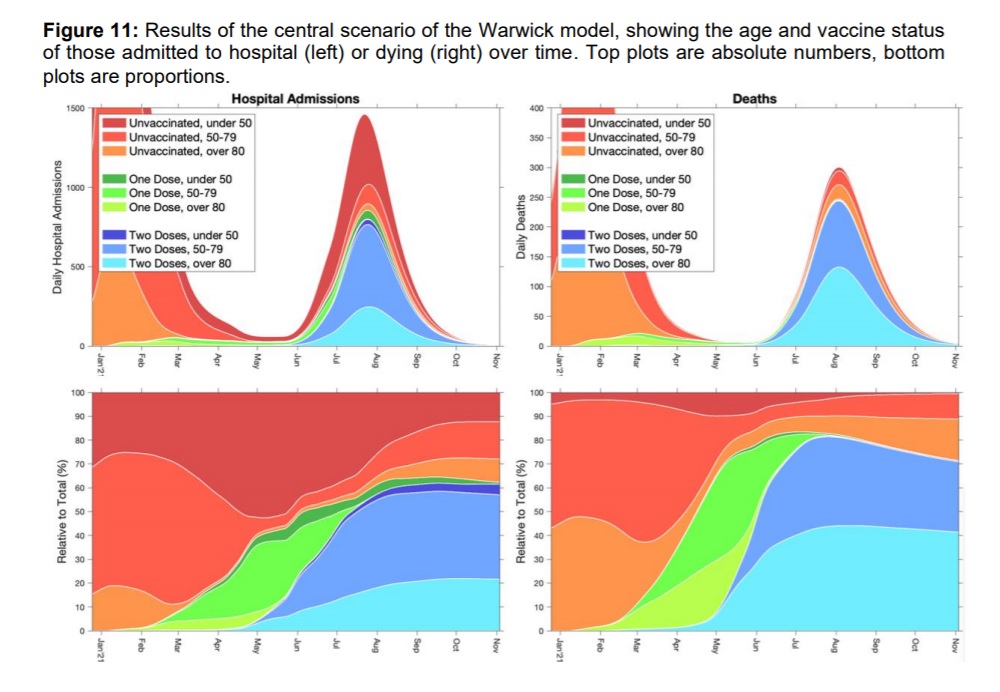 Modelling suggests that when a third wave occurs, hospitalisations and deaths will mostly be in those who've been vaccinated. Its findings suggest that a third wave is inevitable but that the size of the spike in cases depends on the effectiveness of vaccines, the speed at which restrictions are eased and the impact new variants have on transmission and illness. It considers a range of difference sources including modelling from the University of Warwick, Imperial College London and London School of Hygiene & Tropical Medicine.
I find this hard to believe that a summer wave will hit because of normal seasonality, respiratory viruses tend to thrive in the winter periods, but are less likely to spread in the spring and summer.
This third wave of coronavirus infections could see another 50,000 die in the UK even with the successful vaccine rollout, a scientist has warned. "But when I say relatively restricted, what I mean is that a big third wave could still end up with 30,000 to 50,000 deaths, potentially, if it was a similar sort of size to the previous waves that we've had." said – Professor Jeremy Brown
But both models predict a significantly damaging third wave despite using a best-case scenario within the model, and guess who they're going to blame? The children and the unvaccinated. The document states that "Taking all of this into account and applying it to the statement made in the document that the predicted resurgence will be a result of some people (mostly children) being ineligible for vaccination; others choosing not to receive the vaccine; and others being vaccinated but not perfectly protected "
Mr Johnson has also warned Britons not to "delude" themselves that the threat of the virus had gone and said the "majority of science opinion" thought a third wave of Covid was likely.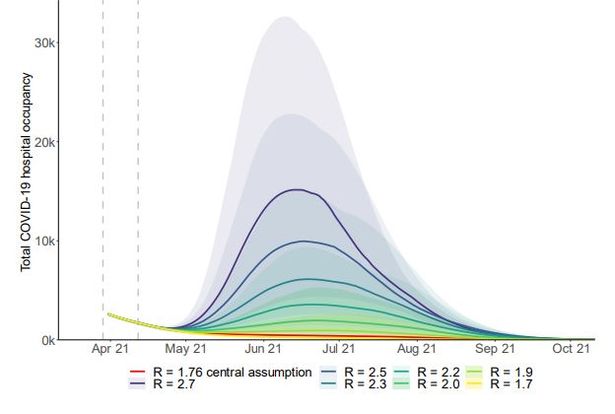 The illustrations clearly show that at the predicted peak of the third wave there will be around 300 deaths per day, with the fully vaccinated accounting for around 250 of them. They also show that the fully vaccinated will account for around 60-70% of hospital admissions due to the alleged Coronavirus Disease.
The UK 'will suffer new Covid wave this summer,' expert warns, Britain is likely to see a "summer surge" in Covid cases as lockdown restrictions are eased, a top scientist has warned. Professor Adam Finn, a member of the Joint Committee on Vaccination and Immunisation (JCVI), said "modelling showed an increase in cases because a number of adults have still not been vaccinated."
Some are saying that the Lockdown roadmap should be adjusted, says member of Joint Committee on Vaccination and Immunisation. "As we look at what's happening in other countries with record cases around the world, we cannot delude ourselves that Covid has gone away," he said, adding that the "majority of scientific opinion in this country" is that there will be another wave at some point this year. Johnson said.
Britons have been put on alert after Boris Johnson warned that the effects of a third coronavirus wave in Europe will "wash up on our shores". Boris Johnson has also said he 'would rather let bodies pile high' than impose third lockdown, reports claim.
Chief Medical Officer Professor Chris Whitty has also warned last month: "There will definitely be another surge at some point whether it's before winter or next winter, we don't know."
Professor Calum Semple, a member of the Government's Scientific Advisory Group for Emergencies, told Sky News: "Even within Britain there is a likelihood of a third wave in potentially July and August time when we do unlock society."
The Tony Blair Institute has also come out singing from the same hymn sheet also suggested a new third Covid wave in the summer.
They also suggest for vaccines for the young is the answer: in point 3: "Third, the new guidance from the Medicines & Healthcare products Regulatory Agency (MHRA) on the use of the Oxford/AstraZeneca vaccine in younger people should facilitate a change in the composition of vaccines adopted. Shifting towards greater reliance on the mRNA vaccines – Pfizer-BioNTech and Moderna – which the SAGE modellers currently see as marginally more effective at preventing infection"
Transport Secretary Grant Shapps recently announced that the NHS app will be used by holidaymakers in England to prove their coronavirus status to destination countries. Something which I said would happen over nine months ago.
This will be your #COVID19 #healthpassport going forward. #TrackandTrace and #GetTested apphttps://t.co/KYH1D01qPM

— Sikh For Truth (@SikhForTruth) August 17, 2020
Regards to the ramping up of vaccine passports, some are now saying that they may be needed for the long term and that experts suggest the language around vaccine passports / certificates need to be carefully considered.
"I think they're here for the long term, we're finding our way forwards on these both internationally and domestically, but I think the system is going to settle down nationally and internationally into a long-term form of certification and protection". – Professor Christopher Dye, professor of epidemiology at the University of Oxford told the Science and Technology Committee.
He told MPs: "I think vaccine passports, or certificates, passes, whatever you want to call them, are going to be a very helpful short-term measure, I think they're going to be in place for the long term as well. For one reason, on the latter part, Covid is not going to go away, and it's going to be endemic around the world – it is going to keep resurfacing."
And in a new report by the World Economic Forum came suggested: Most adults agree with vaccine passports for travel, and there is strong global support for vaccine passports, a new Ipsos survey for the World Economic Forum shows. More than three-quarters of people worldwide think they should be mandatory for travel. And two-thirds of people say you should need one to enter stadiums and concert venues. More than half say the same should apply to shops, restaurants or offices. And a similar percentage expect vaccine passports to be widespread by the year's end.
The government has confirmed that COVID vaccine passports for overseas travel will be ready for use from 17 May – the day Brits are able to travel abroad again. The next stage of Boris Johnson's road map out of lockdown will allow international travel from the UK and vaccines minister Nadhim Zahawi has revealed that the launch of the health certificates will coincide with the May date. "So, NHSX under Matthew Gould are working on making that operationally possible by the 17th of May." he said.
It looks like the plan is to rollout out vaccine passports internationally first which will coincide with the G7 summit, and then on the back of UK trials of the domestic version, they will say they have evidence that they work or stop Covid-19 transmission and are then rolled out to all UK events, sports etc, but all of this could very well coincide with the new third summer covid wave we are hearing of, the final act!
After they have introduced it into social events, they will then prepare to warn businesses on their return. According to a new study by HR software provider and employment law advice service, Bright HR, it said that half of British workers expect their bosses to demand a vaccine passport before they can return to work.
Right now, politicians are making rules to control our life, vaccine passports will control our life, where we can go, what we can do, and right when they announce these rules, they claim they are not controlling us. Black is white, up is down and tyranny is freedom. This is literally the end of human liberty in the West if this plan unfolds as planned. It is not about the vaccine or the virus, it is about our data and control over us.