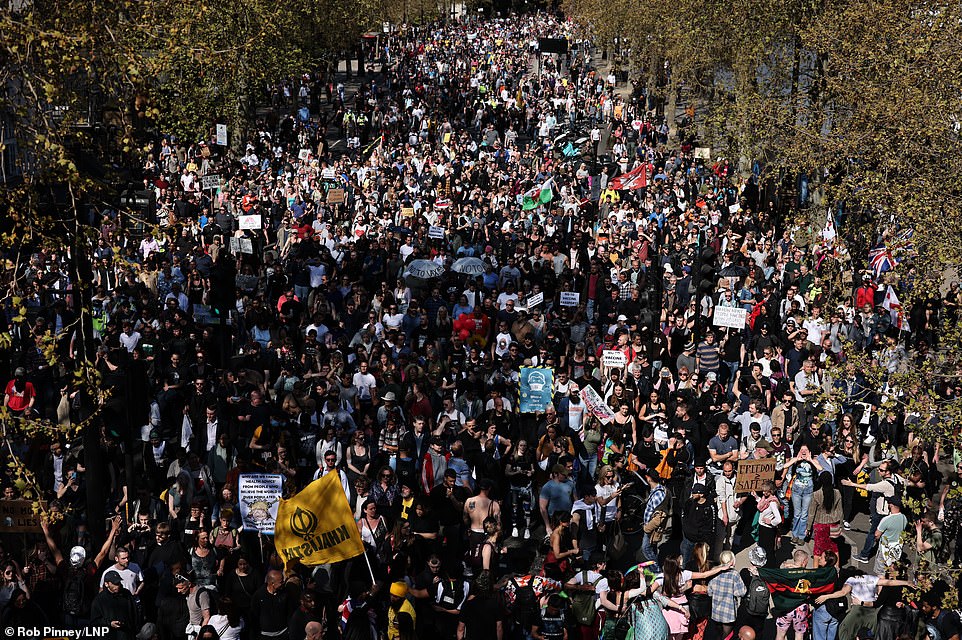 On Saturday 24th April, hundreds of thousands of freedom-loving people with their British bulldog spirit descended onto the UK's capital city London to take part in what can only be described as an 'act of mass defiance', a mass awakening event. To point blank relay a very powerful message that we the British people are sick of the restrictions, the snail's pace it's taking for us to fully reopen from lockdowns and to oppose any further lockdowns and vaccine passports.
And not a WORD on the telly or any MSM. Journalism is DEAD. We will spread the truth. pic.twitter.com/cPr2Cow9TA

— Tonia Buxton (@ToniaBuxton) April 25, 2021
Some drone footage from above.
Keep going Brits!

So inspiring to see people taking back their rights.

No government— anywhere, ever— has the right to tell you when you're allowed to see your family, or how you are allowed to breathe.

The real global pandemic is totalitarianism. https://t.co/zioqKtw1pu

— Candace Owens (@RealCandaceO) April 25, 2021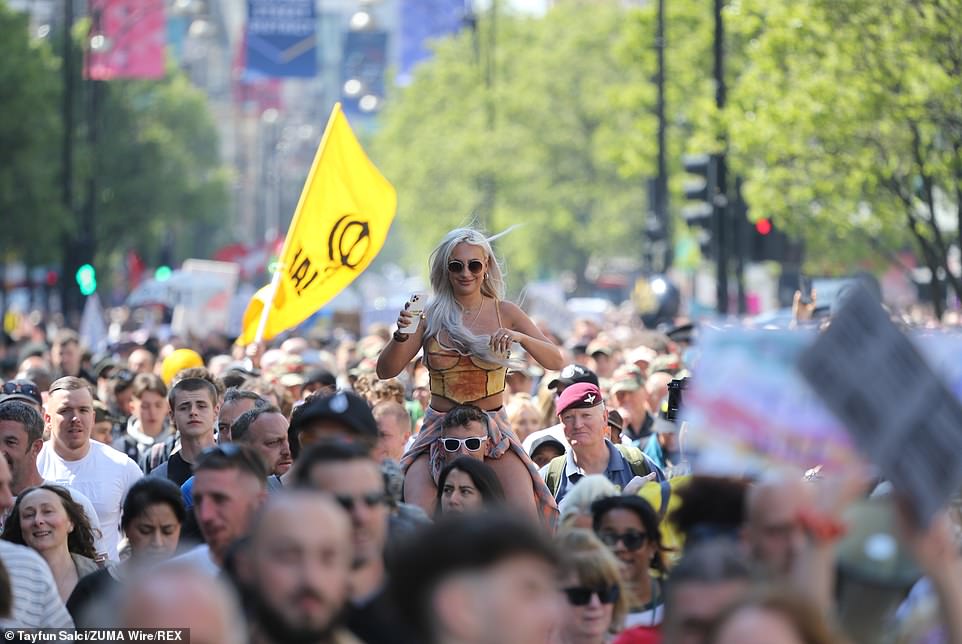 The gigantic march took place through the whole of Central London, going from Hyde Park Corner, to Marble Arch, Oxford Street, Holborn, City, down to the Embankment, Parliament Square and back to Hyde Park. There were still people on Oxford Street when it finished. It was nine miles of people and many hundreds of thousands.
🔴LIVE: Large crowd marching streets of London
Anti Lockdown Protest | Hyde Park
Watch now: https://t.co/1Bu5ccj3dd#LondonProtest #LIVE #Livestream #London #Freedom #HydePark #Protest #Police #AntiLockdownProtest #AntiLockdown pic.twitter.com/mPerMpe4qE

— Subject Access (@subjectaccesss) April 24, 2021
The protests comes amid discussions over Covid-status certificates being considered by ministers to open society. Britain's equalities watchdog has also warned the Government that the 'vaccine passports' could be unlawful.
These people have lost faith in the system and with the dying dinosaur media who only push the government's manipulative Vaccine agenda.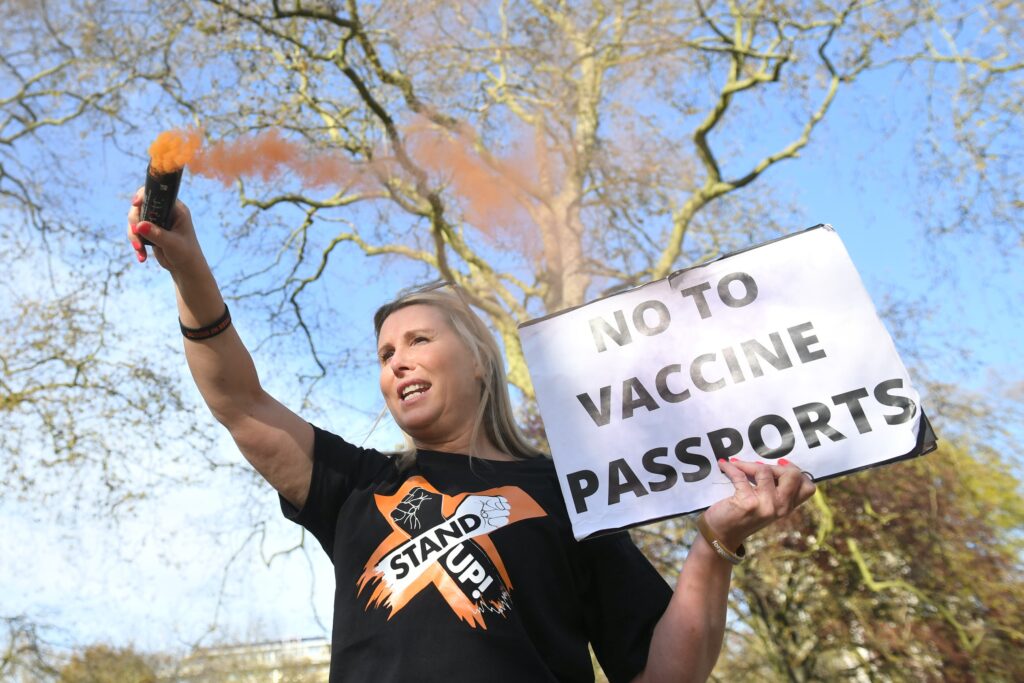 Yesterday, protestors said they have planned the "biggest street part London has ever seen", according to a poster for the event.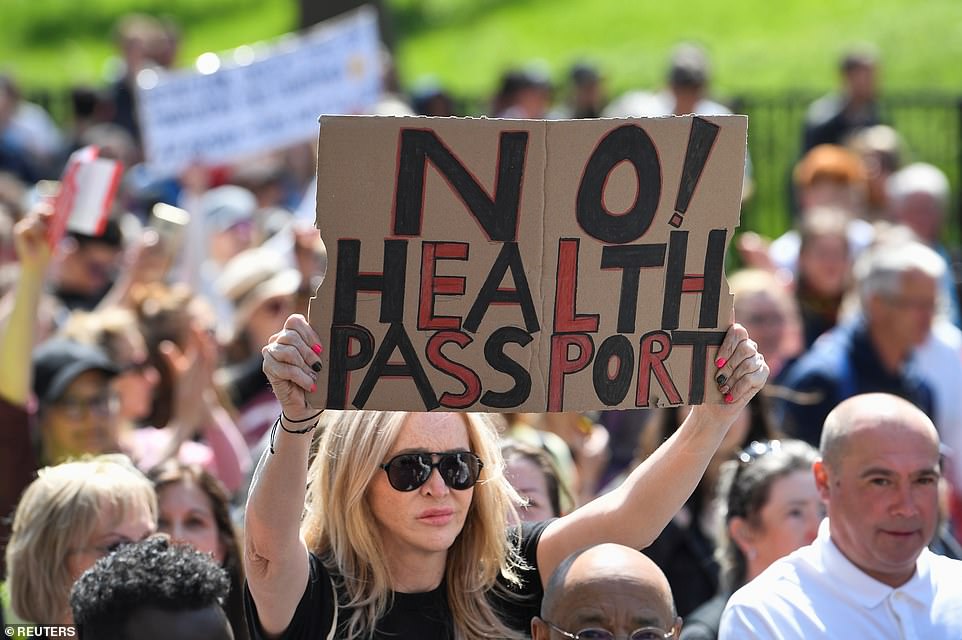 TV presenter Beverly Turner and London Mayor candidate Laurence Fox joined hundreds of thousands of activists in a 'Unite for Freedom' protest to demand a ban on vaccine passports.
Many protesting do not consent to masks, social distancing, and a strong resounding 'NO' to any form of coercion to get vaccinated or to carry any form of vaccine passports. Indeed, these people strongly believe in individual rights, freedom of choice, freedom of movement, informed consent and medical sovereignty.
View of today's anti-lockdown march from Waterloo Bridge. This is 45 minutes after the front and I reckon at least an hour still to come. pic.twitter.com/KjSTFVYqvV

— Prof Norman Fenton (@profnfenton) April 24, 2021
After 13 months the people have had enough and what we saw yesturday was the biggest largest freedom event ever to taken place in London with some saying that the crowds were as big as the Iraq war protests in 2002.
We will say it again: Amazing day yesterday!

This is THE WHOLE CROWD from start to finish, time lapsed into 2mins.

Anyone care to count? #londonprotest pic.twitter.com/21w06XGrm0

— Save Our Rights UK – A Real Democracy (@saveourrightsuk) April 25, 2021
For those who are constantly crying out covid idiots about the London protesters, our human freedoms are ours and it is not the Government of the day to rob us of them. The government should be the people we have elected to protect our god given freedoms and hard-won rights.
The people have come from far and wide to say enough is enough. WE THE PEOPLE do NOT consent. #londonprotest pic.twitter.com/Jpa4RytzZV

— Gillian McKeith (@GillianMcKeith) April 24, 2021
Here's how @James_Townsend9 an observer described the March for Freedom:
"There were: hippies, teenage girls, gym goers, Irish, Bob Marley playing, Yorkshire men, Sikhs, football lads, wheelchair users, parents with pushchairs, Swedish, rave music playing, Rastafarians, dads with their sons, environmentalists, tv presenters. Snow Patrol playing, chavs, lefties, war veterans, nurses, UK flags, Welsh flags, Scottish flags, English flags, women (lots of women), articulate people, non-articulate people, anarchists, right-wingers, centrists, Cornish folk. Bikers, Oasis playing, people in fancy dress, Greek flags, those on their first protest, serial protestors, middle class folk, grandmas and granddads, black people, white people, Asian people, traditionalists, LGBT community, skateboarders, dog walkers, and more. It was a carnival atmosphere, the energy was innately positive but with a steely undertone, It was peaceful and a fantastic representation of democracy"
Colourful banners and posters were being carried by the protestors, advocating for an immediate end to lockdown rules and no Vaccine Passports to be introduced.
Keep Britain Free 🇬🇧 pic.twitter.com/CM0YqUuGCA

— 𝑴𝒓 𝑫𝒂𝒎𝒊𝒆𝒏 𝑹. 𝑩𝒍𝒂𝒄𝒌 🇬🇧 (@MrDamienBlack) April 24, 2021
One banner read: "Love does not fear. Freedom not tyranny."
Another poster said: "Freedom is not a privilege it's a right."
A third said: "We're the ones you failed to fool!"
The event has been titled 'Unite for Freedom' and had been heavily planned.
Former MEP Martin Daubney, who attended the "buzzing" protest, said it was "mobbed". He also tweeted: "At Hyde Park for the freedom march. Absolutely buzzing atmosphere".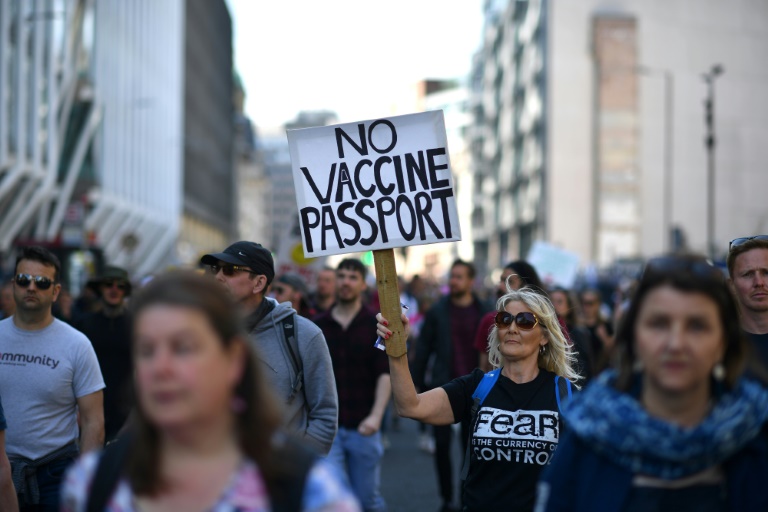 At Hyde Park for the freedom march. Absolutely buzzing atmosphere. The BBC will no doubt say there are "hundreds" here. But it's mobbed pic.twitter.com/aOzONPtItX

— Martin Daubney 🇬🇧 (@MartinDaubney) April 24, 2021
Enormous crowds on #londonprotest yesterday – 500,000+ I reckon – so reading social media reports that @BBCNews gave it no mention whatsoever was hard to believe. But I've just checked and its true. Nothing on @twitter or Website. They really are a total disgrace. pic.twitter.com/ye2PoVKkcP

— Suzanne Evans 💜 (@SuzanneEvans1) April 25, 2021
BBC BIAS: disgraceful @BBCNews zero reporting of one of biggest demonstrations in London in recent years, today, the Freedom March. So imagine if had been Extinct Rebellion march that size, would have been wall to wall coverage. Time for reform.

— Richard Tice 🇬🇧 (@TiceRichard) April 24, 2021
Not even that the BBC, aka the governments mouthpiece failed to mention it anywhere in print or online, they have completely failed in their duty to educate and enlighten the British public. I wonder why? They do not want the promotion of freedom and they do not want you learning that there are millions of people like you and me who have seen through the constant abuse of fear, lies and Covid-19 rhetoric and manipulation.
It is no longer working the people are waking up.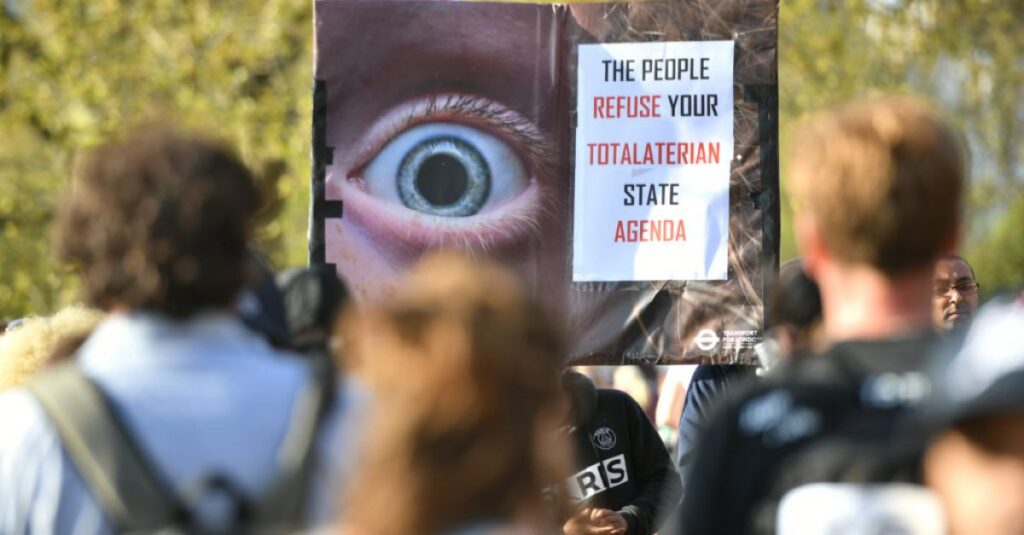 There is also growing anger and backlash that no mainstream media outlet has covered this event in fairness.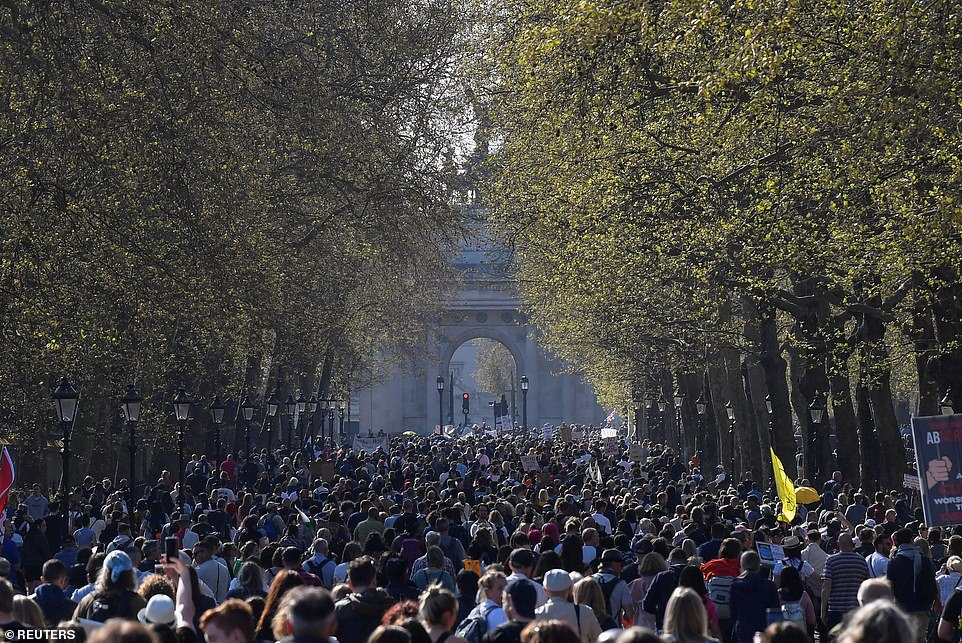 To my friends at the BBC.

A little tip on brand & reputation – from one journo to another, you may want to cover this… #londonprotest pic.twitter.com/vnXHZawEfQ

— Anna Brees (@BreesAnna) April 24, 2021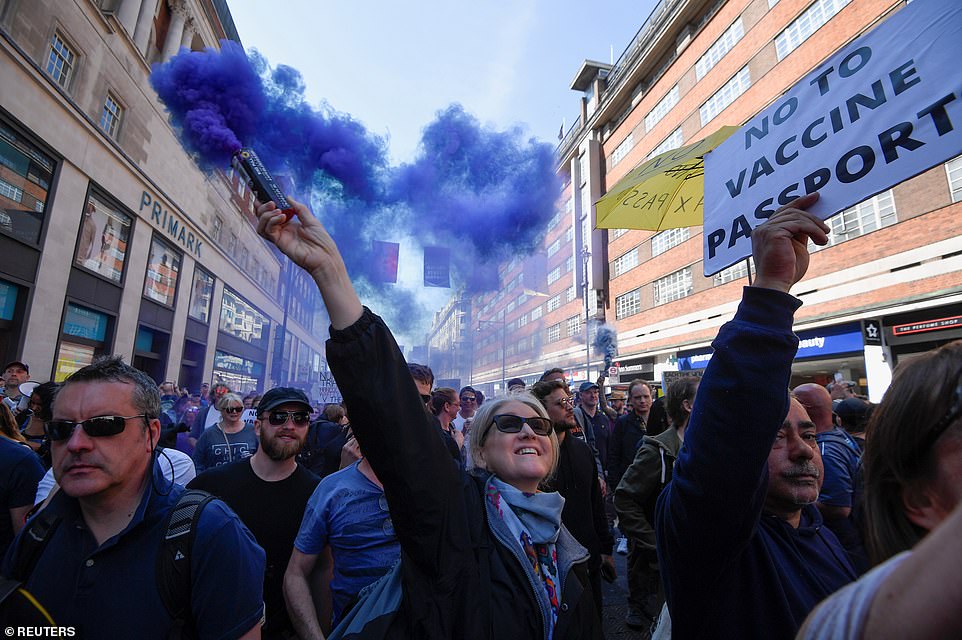 Yesterday, protestors said they have planned the "biggest street part London has ever seen", according to a poster for the event. It reads "Bring your instruments, bring your rhythm, bring pots and pans, bring your voice, bring your heart. The message: Medical Freedom."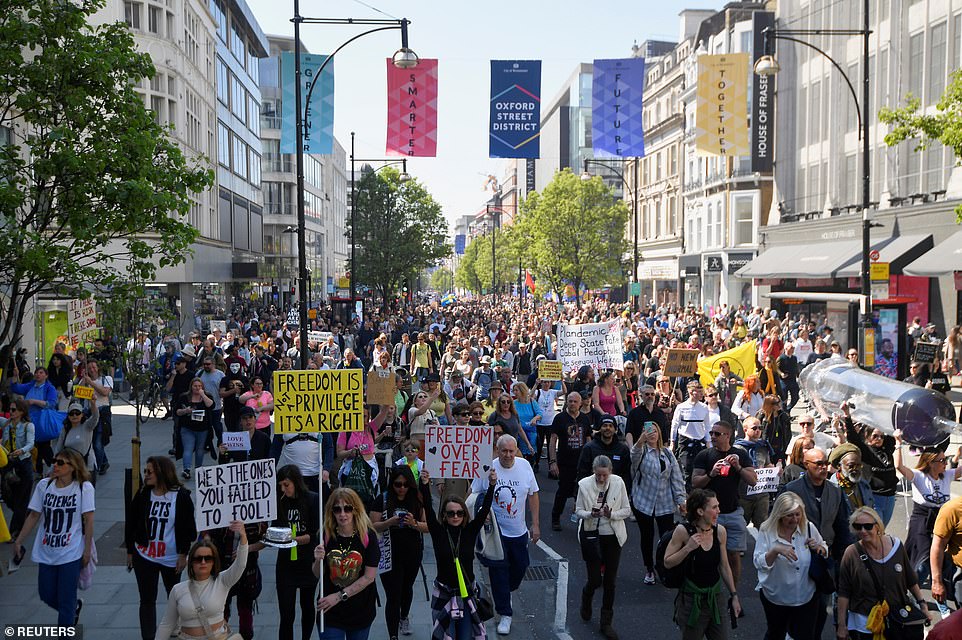 Absolutely enormous crowds on the anti-lockdown protest march in London. These are normal folk who are concerned about their jobs, livelihoods, freedoms and protesting for a return to normality and an end to authoritarianism.
— 🌻 Jude (@jude99_) April 25, 2021
Even the police joined in on the march.
And even a 100 year old war veteran came along.
Irrespective of whether you believe in the cause, this was a heart-warming, joyous, peaceful, multicultural, multigenerational celebration of life and freedom. It brought a tear to my eye and rekindled my flame of faith in humanity.
Everybody's freeeeee #londonprotest pic.twitter.com/uHRKB6B0w4

— Ben 🕊 (@1BJDJ) April 24, 2021
"Everybody's free to feel good, Everybody's free to feel good, Everybody's free, Brother and sister"
Huge turnout for the #londonprotest Are you watching @BorisJohnson ? #enoughisenougth #NoNewAbnormal #NoVaccinePassportsAnywhere pic.twitter.com/meeJwBHQog

— Neil Clark (@NeilClark66) April 24, 2021
The protest has also come on the back of the announcement that the Covid-19 pandemic is indeed over in Britain, say experts – Vaccine rollout has led to drop in symptomatic infections by up to 90 per cent, data show, leaving virus at controllable 'endemic' levels.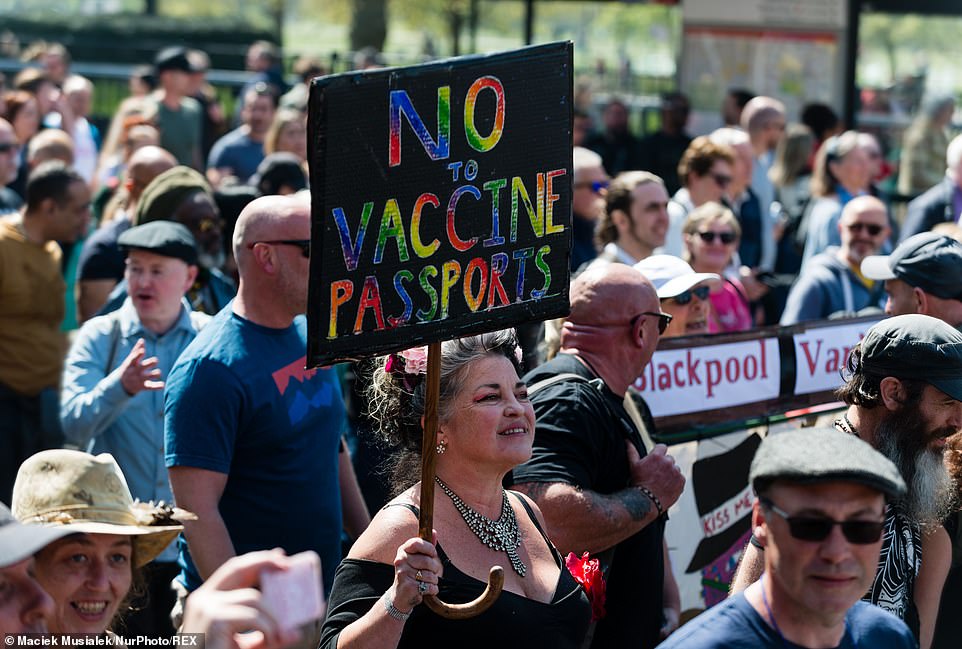 The protest comes amid discussions over 'Covid-status certificates' being considered by ministers to help open up society, get people back into work or away on holiday despite concerns from Boris Johnson's own MPs that they will be 'intrusive, costly and unnecessary'.
"No health passports." The freedom wave is building. This is glorious. The UK now has a truth movement.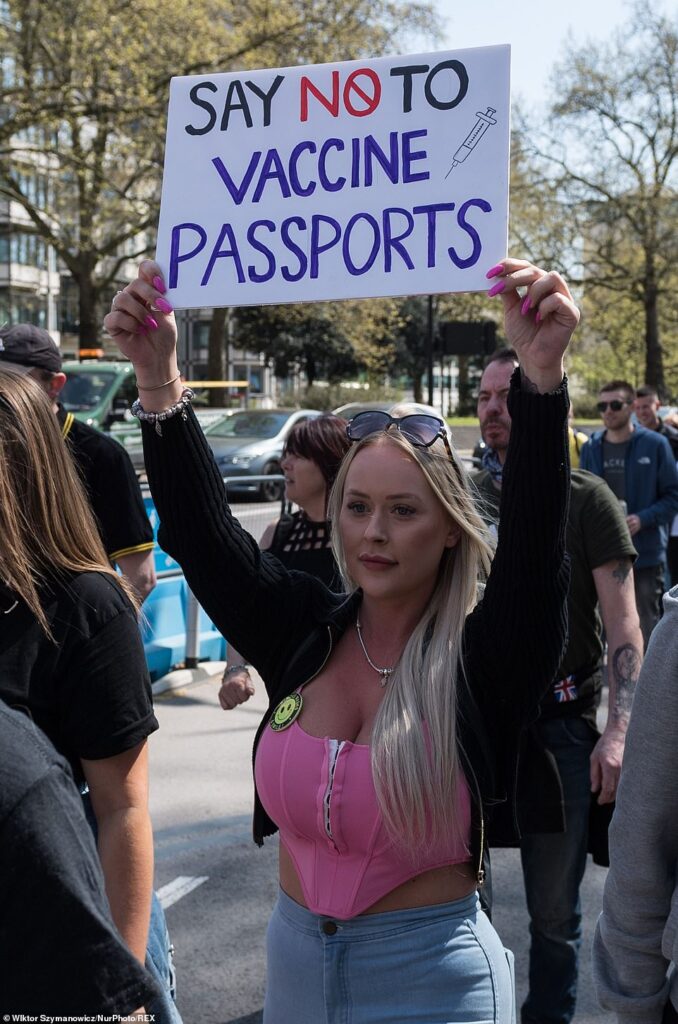 I quite liked this one 😄 pic.twitter.com/vascyBhtDu

— Morgana 🌸 (@Morcia) April 24, 2021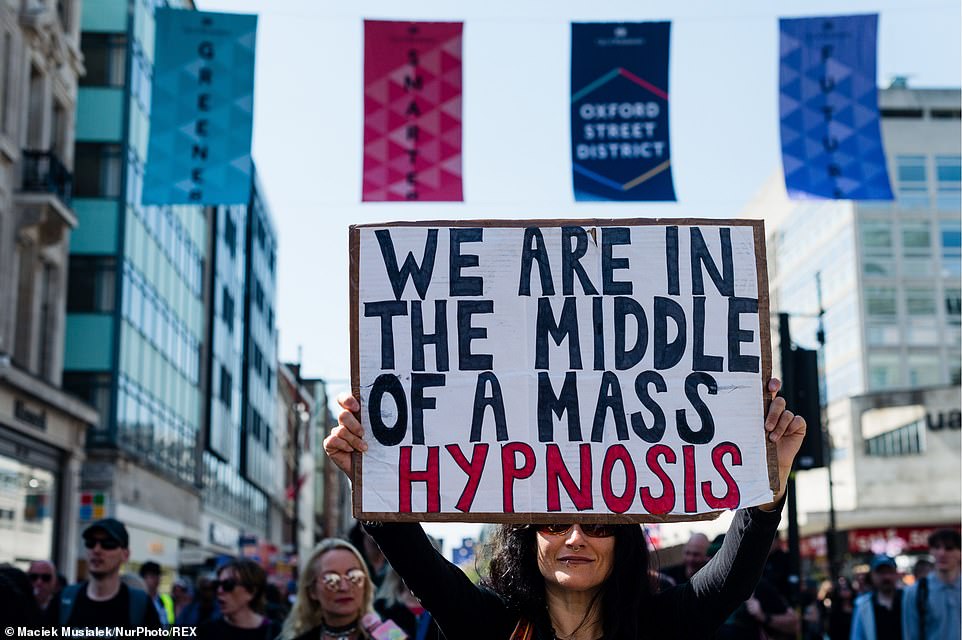 The protest come on the back of a large rise in adverse reactions with 143,034 reported adverse reactions to the Pfizer vaccine and 548,495 adverse reactions to the Oxford / AstraZeneca vaccine. For both vaccines this equates to 1 in every 166 people suffering an adverse reaction. This rate could be higher as only 1 – 10% of adverse reactions are actually reported, according to the MHRA themselves.
https://twitter.com/InProportion2/status/1386030896432693250?s=20
Also all cause mortality is lower 7 weeks in a row than the past yearly averages, with the COVID-19 daily related deaths down to double and single digit figures as you would expect from a seasonal viruses.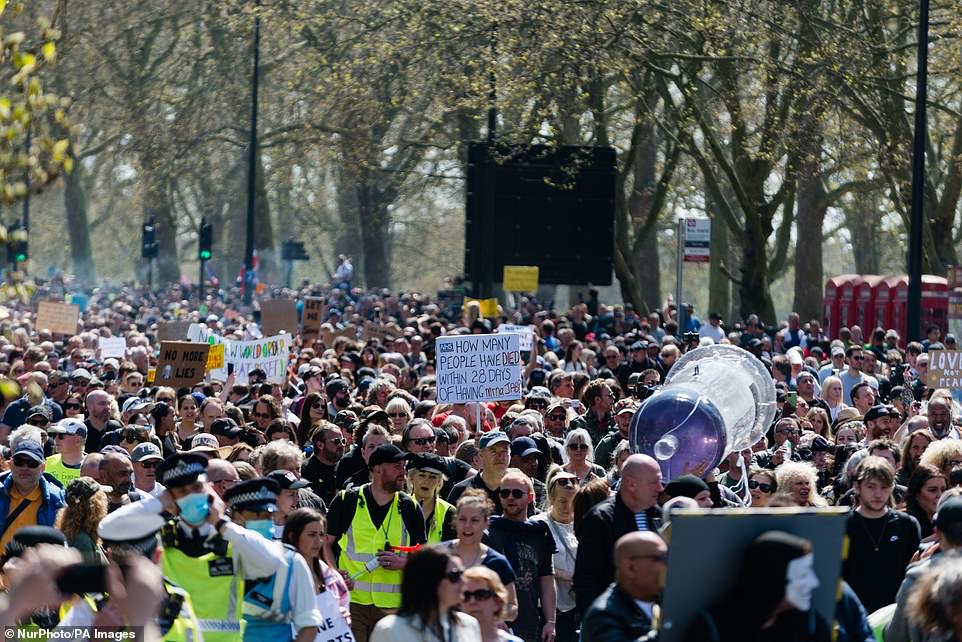 People are also very concerned about Vaccine Passports which will put a big number of the population within a digital lockdown unable to access basic services or access to any type of public events.
A type of permanent digital slavery of access and denial based upon medical health status.
More than 50,000 extra deaths were recorded at home in England and Wales since the pandemic began, but only one in seven of these extra deaths were directly involved with Covid-19, analysis shows.
The system failed us, it closed down, and the huge number of deaths last year were contributed by the societal shutdowns and the denial of basic health services. This must never happen again.
And even during the summer and early autumn of 2020, when few lockdown restrictions were in place across the country, excess deaths in private homes remained above average by between 700 and 900 a week.
Why aren't the mainstream media giving the anti-lockdown protest march in London any significant overage? Oxford Street has hundreds of thousands of people marching. It's enormous.#londonprotest pic.twitter.com/h7Cimc3BrX

— James Melville (@JamesMelville) April 24, 2021
Some people believe that the purpose of vaccine passports is clear, despite whatever flimsy excuses are being given to justify them: To restrict the movement of the unvaccinated, or in plainer terms to restrict the movement of those who have seen through the agenda, people like you and me.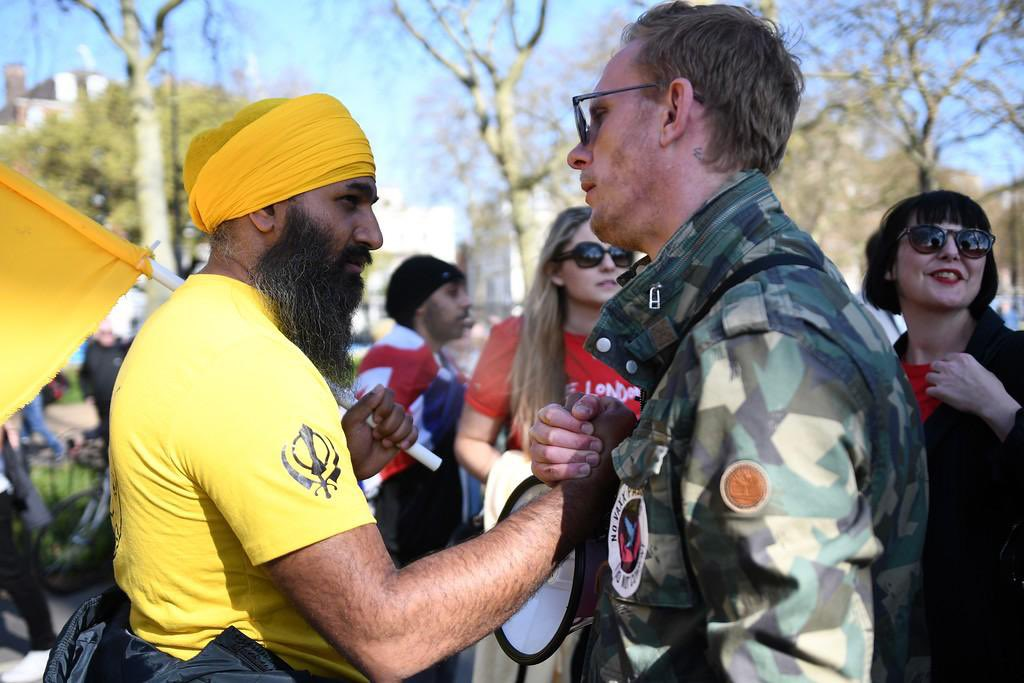 Demonstrations were largely peaceful, out of half a million only five people were arrested for offences including assault on police and remain in custody.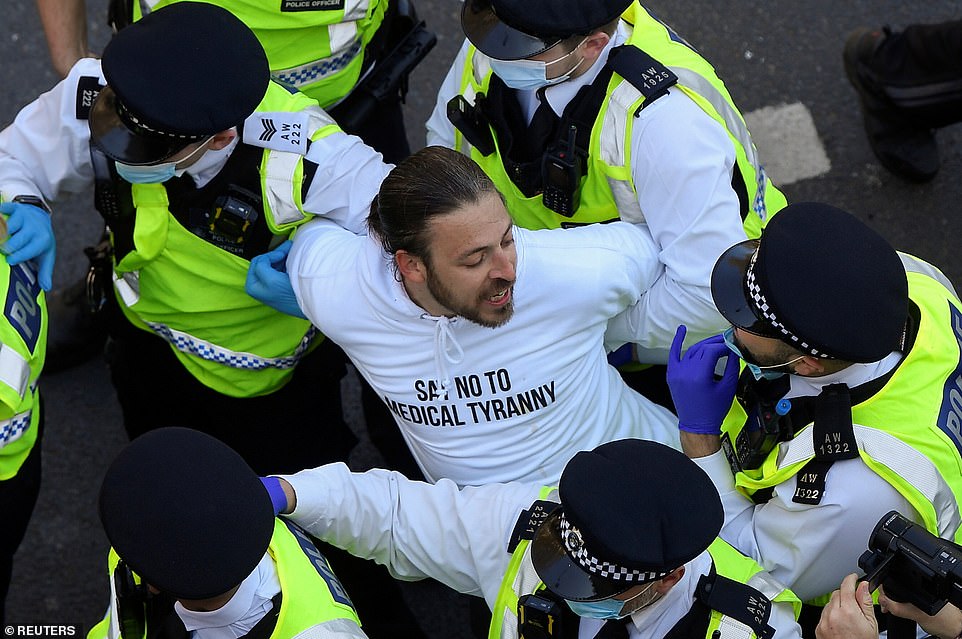 This is what actually took place with the police.
It's time to end this.

"A patriot must always be ready to defend his country against his government. If I were to remain silent, I'd be guilty of complicity."
― Martin Luther King Jr.#londonprotest pic.twitter.com/tGnzMbPsAm

— Bernie's Tweets (@BernieSpofforth) April 24, 2021
To even find a report in Britain of the huge march through the capital city you must turn, not to the BBC, the national state broadcaster, but to Russian media and Australian media. I wonder why that is? Because it does not fit into the doom and gloom fear porn narrative. We are the many and they are the few, they are outnumbered and they know it.
"The only real prison is fear, and the only real freedom is freedom from fear" – Aung San Suu Kyi.
Indeed, it's time to end this, it's time to wake up and stand up. Be on the right side of history instead of believing in the fairy tales pushed by the mainstream media and the complicit governments.