Feature Photo Credit to Leicester Media – LM News @Leicestermedia.
Following mob rule unrest in Leicester over the weekend, 15 people have been arrested as part of an operation to deter further disorder.
Two people were arrested after Saturday's trouble involving mostly young men from the Muslim and Hindu communities flared. All 15 people arrested on Sunday were still in police custody just after midnight on Monday.
Following Saturday's large-scale disorder, Leicester saw a further protest on Sunday.
Belgrave Road has now been closed due to a protest this afternoon. Please avoid the area. @ATCLeicester #BelgraveRoad pic.twitter.com/zlLx1iCsy7

— Leicester Media – LM News (@Leicestermedia) September 18, 2022
On Sunday afternoon, about 100 people gathered at the start of Belgrave Road to protest.
Some of the crowd briefly attempted to push through police lines, complaining they were being prevented from marching. Officers followed the protesters along Green Lane Road later in the day.
Protest March called for by the Muslim side today has been stopped by the @leicspolice claimed to avoid further disruptions in the area. pic.twitter.com/MaPDNmxsRR

— PP Jaseem (@jaseempp) September 18, 2022
Police held back Muslim protesters from marching along Belgrave Road in Leicester to avoid clashes with the Hindu community.
Just quickly asked the police officer what his thoughts have been on the Muslim protests today on Belgrave Road.
One word. Peaceful.#Leicester pic.twitter.com/6TgcPo6Tqt

— Majid Freeman (@Majstar7) September 18, 2022
Majid Freeman a reporter on the ground on Belgrave Road spoke to a policeman, asked the policeman "From what you have seen from the Muslim community in terms of the protest how would you describe it". The Policeman answers "It's been peaceful."
Updated News on unrest in Leicester. The protesters returned from the bottom end of Belgrave Road. After dispersing a hour earlier. Police rush to head of the protesters. #BelgraveRoad pic.twitter.com/jqX64Agw0Y

— Leicester Media – LM News (@Leicestermedia) September 18, 2022
The police blocked the road but about an hour later the protesters returned from the bottom of Belgrave Road chanting, "F*** the BJP" with police rushing to head off the protestors. – The Bharatiya Janata Party or BJP is a political party in India, and one of the two major Indian political parties alongside the Indian National Congress.
People and businesses under attack and clashes between the #Muslim and #Hindu communities play out on the streets of #Leicester. #London pic.twitter.com/DT5OAHrjGn

— We Are Protestors (@WeAreProtestors) September 18, 2022
Masked individuals attempted to enter a store on Belgrave Road to stir up more trouble, you can see the disorder on the streets as police chase them away.
BREAKING 🇬🇧 : Ongoing unrest in #Leicester, #UK tonight after riots over the last few days. pic.twitter.com/ejpdIbdxCK

— Zaid Ahmd  (@realzaidzayn) September 18, 2022
There were also unconfirmed reports of more disorder targeting motorists and cars in Leicester.
Forest Road is currently closed due to the ongoing unrest in Leicester tonight. #LeicesterEast pic.twitter.com/iGPmzWL6CN

— Leicester Media – LM News (@Leicestermedia) September 18, 2022
Due to the ongoing unrest, Forest Road was later closed at the junction of Humberston Road around 8pm last night.
Can you imagine the outrage, the media meltdown, the public order chaos, if, say, a Christian vandalised a mosque like this?

Yet the MSM & blue-tick Twitter are strangely tongue-tied about the religious anarchy unfolding in Leicester.. 🤔

— Martin Daubney 🇬🇧 (@MartinDaubney) September 18, 2022
Leicester's Hindu community is rightly outraged and condemned the video footage of the removal of a saffron flag outside a Hindu temple on Belgrave Road on Saturday evening.
On Sunday evening (September 18th), the Hindu American Foundation issued a statement on Twitter stating that they had spoken with British Hindu counterparts and were able to confirm that mobs were terrorizing Hindu neighbourhoods in Leicester with stabbings and temple attacks chanting Hindu phobic invectives.
As well as condemning the attacks, they demanded strong action from the UK Home Office.
Sixteen brave Leicestershire Police colleagues were injured last night policing disorder… utterly despicable. Our Chair Adam Commons – @LeicsFedChair – comments on the disgraceful scenes we sadly witnessed. We wish all injured colleagues well https://t.co/ZXq7QG5Z13 pic.twitter.com/FgxTAjtr44

— Leicestershire Police Federation (@LeicesterPolFed) September 18, 2022
According to the Leicestershire Police Federation, a staff association representing Leicester Police Constables to Chief Inspectors, sixteen brave Leicestershire Police colleagues were injured in the policing disorder that occurred on Saturday evening.
Some footage of my interview with helmet man, that snowballed into a shouting match with an RSS member. Compared to the palpable aggression and fear that hung around Leicester yesterday, this paled in comparison, although it is a concerning hazard of being a journalist. pic.twitter.com/eQU9Yo4KFo

— Aina J. Khan (@ainajkhan) September 18, 2022
Aina J. Khan, a reporter for the Guardian, spoke to a local businesses on Belgrave Road yesterday (Sunday) in what became a heated debate. The man said that the "fascist inspiration that underpinned the inception of RSS? It was not true."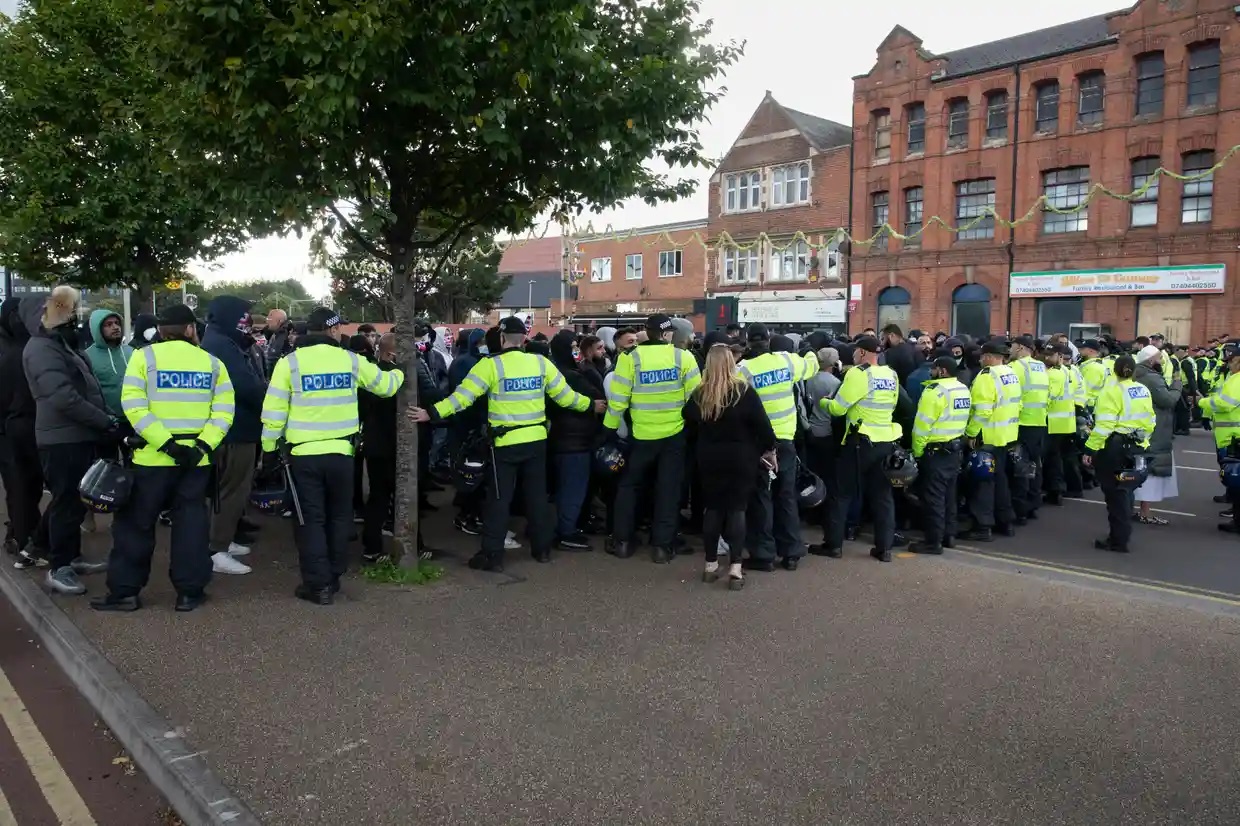 Drishti Mae, 31, a lifelong Leicester resident who used to chair a national Hindu organisation, said the recent unrest was unprecedented in the more than three decades she had lived in the city.  "It's the Hindu community that's being targeted, a first-generation migrant community," Mae said, claiming Hindu families were being harassed by some Muslims in the city.
"They feel threatened, and attacked," she added, saying the police were failing to protect property, people, and places of worship. "We do have a right to protect ourselves," she added.
Sanjiv Patel, who represents Hindu and Jain temples across Leicester, told the BBC that he was deeply saddened and shocked by the recent disturbances. He said: "We are horrified and deplore what was going on [on Saturday] and across the last two weeks. "Across the Hindu and Jain community and with our Muslim brothers and sisters and leaders we are consistently saying 'calm minds, calm heads'."
Adding: "Violence is not a solution to anything. This has to be a time for peace, calm and engagement."
Suleman Nagdi of the Federation of Muslim Organisations Leicester, suspects that some of the recent violence in Leicester may be down to newer arrivals in the city from the Indian subcontinent, "who are not yet 'familiar with the norms of our society in this country"
Our statement on the violence and provocations in #Leicester this weekend, its backdrop and a renewed call for peace and calm. pic.twitter.com/46D0h15HfR

— FMO (@FMO_Leics) September 18, 2022
Meanwhile the FMO the regional umbrella body – a collective effort in representing the needs of Leicestershire's Muslim community released a statement Sunday evening calling for "statutory agencies and communities to work together to diffuse the situation particularly where vulnerable and elderly and feeling intimidated."
Hundreds of young Muslim + Hindu men, wearing masks or balaclavas, are in violent running street battles against each other night after night for 3 weeks.

Not in India or Pakistan.

Here in Leicester.

This must be the "cultural enrichment" we've heard so much about. pic.twitter.com/li49tbwJ6e

— Julia Hartley-Brewer (@JuliaHB1) September 18, 2022
News of the troubles in Leicester have gone global with Al Jazeera (19.2 million followers) tweeting footage from Saturday afternoon. Reporters Paul Joseph Watson and Julia Hartley-Brewer were also posting images of the disturbances in Leicester on Sunday.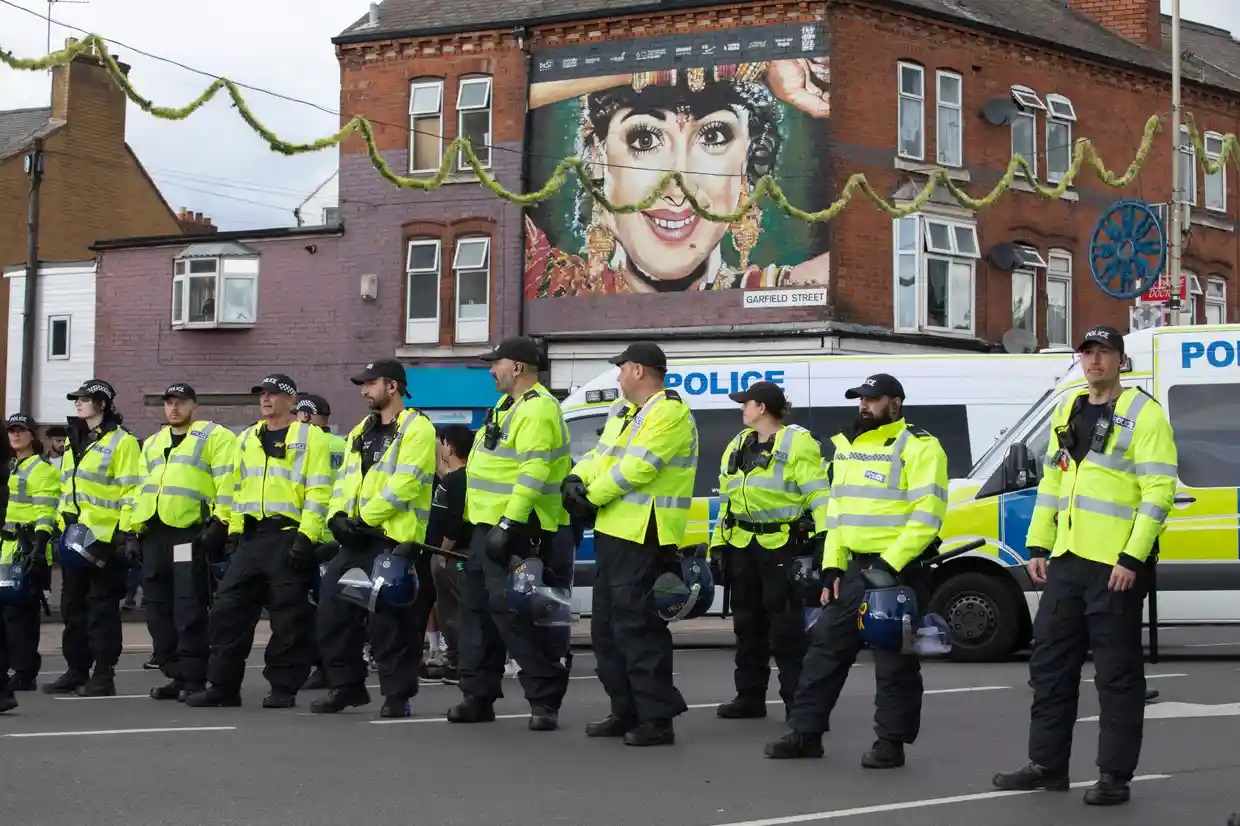 In a statement issued by the Leicestershire Police early this morning, they said that policing operations to deter the continued disorder on Sunday 18th September. 15 people were arrested during last evening operation.
They wrote the "impact of this disorder is having an impact on local communities, and it is not acceptable."
Adding: "Leicester will not tolerate violence disorder or intimidation and the police urge the calling for calm and dialogue."
Leicester is a classic example of what happens when ultra-religious identity politics and geopolitical tensions are imported into diverse parts of the country which lack effective socio-political leadership.

Subcontinental-style sectarianism has no place in modern-day England.

— Dr Rakib Ehsan (@rakibehsan) September 18, 2022
Whatever is happening in Leicester has nothing to do with a Cricket match which was played over three weeks ago, but through political ideologies and local tensions between the communities which many suspect have been brewing for several years.
Both sides are blaming each other's extreme political elements for the disorders. Whatever of one's beliefs or world views it remains important that respect, dialog, harmony, and social cohesion be paramount for the sake of our city and our future. The world is watching.