Dr Clare Craig, a Diagnostic Pathologist with over 20 years of experience, was suspended from Twitter last night.
I don't believe Doctors should be silenced. Ever.

We are entering an Age of Darkness when only the acceptable 'expert' views are allowed.#ReinstateClaireCraig pic.twitter.com/UbBl2HfcNp

— Bernie's Tweets (@BernieSpofforth) August 21, 2022
Dr Clare Craig, a Consultant Pathologist who carried out extensive research into the COVID epidemic, often spoke about the important perspective of a pathologist on how critical it is in understanding the problems with data collection.
She had been a Consultant Pathologist since 2001 and worked on the 100,000 Genome Project in the cancer team from 2016. She was also a Co-Chair of the HART Group and a founding signatory to the #Together Declaration.
She specialized in cancer diagnostics including diagnostic testing for cancer within mass screening programmes.
At Genomics England, she led research and development projects, wrote national guidance and helped build bespoke software, collaborating closely with NHSE.
"We have had serious people suggest anyone who (asks questions about vaccines) should get a jail sentence… that's frightening & not an environment where you can have open debate"

New #togethertalks podcast w/ @ClareCraigPath soon

Pls subscribe now👇https://t.co/SMnDqFKDZp pic.twitter.com/ZDT7LpPAMe

— Together (@Togetherdec) July 22, 2022
"We have had serious people suggest anyone who asks questions about vaccines should get a jail sentence… that's frightening and not an environment where you can have open debate" – Dr Clare Craig said in an interveiw with #Together Alan Miller.
Nobody should be banned for reporting facts based on official documents. The hashtag #ReinstateClaireCraig is currently doing the rounds on Twitter to help bring her account back.
In 2020, she provided written evidence to the Public Administration and Constitutional Affairs Committee inquiry into Data Transparency and Accountability of COVID-19.
'This is data they went to court and said they didn't want released for 75 years… There are a few things about it that are a bit odd.'

Dr Clare Craig is critical of data released by Pfizer from their initial trials.

🖥 Subscribe to our YouTube channel https://t.co/Wa58gYGZwF pic.twitter.com/IhwVa8xoP6

— GB News (@GBNEWS) March 5, 2022
In a recent review of the Pfizer trial documents, Clare discovered startling results that contradicted the official Government narratives regarding the correlation between vaccination and mortality rates.
She was sceptical and suspicious of the government's and the media's COVID-19 counter measures.
She provided a full repertoire of background papers and studies that backed up her own assertions and only quoted verifiable evidence. Was she getting too close to the truth?
The mainstream media is silencing counter government narratives, and she may have been a real thorn in their sides.
GB News reported in November 2021 that Dr Clare Craig opposed mandatory vaccinations for NHS workers.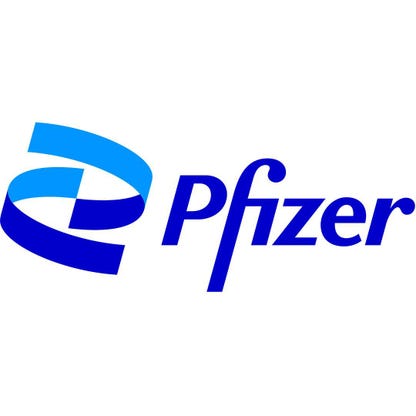 BOMBSHELL: Dr. Clare Craig Exposes How Pfizer Twisted Their Clinical Trial Data for Young Children
Two-thirds of children dropped out of the vaccine trials?!
Just this month she dropped further bombshells: She said, "In the three-week period, after the first vaccine dose, thirty-four of the vaccinated children got covid and only thirteen in the placebo group which worked out as a 30% INCREASED chance of catching covid in that three-week period if you were vaccinated."
Dr. Clare Craig also exposed how Pfizer twisted their clinical trial data for 6 months to 4 years old children.
GNews : Dr. Clare Craig from UK Exposes How Pfizer Twisted Their Clinical Trial Data for 6 Months to 4 Years Old Children
I am Dr Clare Craig. I am a Diagnostic Pathologist and I'm co-chair of the HART Group, and I want to take you through the evidence that Pfizer just presented to the FDA on the 6 months to 4 years old children. There's an awful lot about this trial that has shocked me and I think will shock you too.…
She was questioning everything: In this clip she said: "There's an awful lot about this trial that has shocked me, and I think will shock you too. The trial recruited 4526 children aged from six months to four years old, 3000 of these children did not make it to the end of the trial. That is a huge number, two thirds of them, why was there this drop off?"
Dr. Claire Craig was instrumental in exposing the fraudulent Pfizer Covid Drug Trials.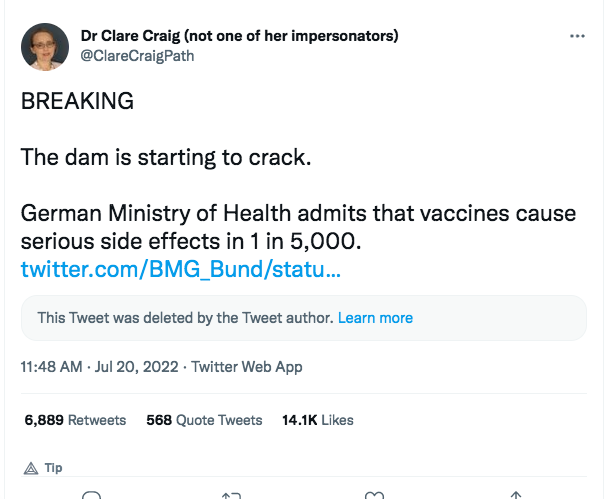 In July 2022, Dr. Claire Craig tweeted "The dam is starting to crack" when she reported that the German Ministry of Health admitted their vaccines caused serious side effects in 1 in 5000 people.
Dr Clare Craig (not one of her impersonators) was also number 74 on the top 250 Irish clowns' disinformation Broadcasters list. The website defines disinformation broadcasters like Claire to "spread conspiracy theories".
This Irish website and Irish think tank is funded by Gates and Soros; it's targeting and monitoring Twitter citizens who speak out for freedom.
DR Claire Craig was the first person to wake me up to the fraud back in spring 2020… She has lived and breathed this social tragedy every day, driven by data and science (whilst raising 4 children!) and is a vital voice that must be heard.#ReinstateClaireCraig https://t.co/2vjpqkDLdV

— Bev Turner 🌸 (@beverleyturner) August 22, 2022
The final nail in the coffin is unknown because Twitter rarely shares the final tweet violations. After a few strikes, it is likely your final strike will be a straight suspension without any option to contest the tweet.
Since last night, many high-profile accounts have expressed their shock and frustration with Twitter.
This is becoming more & more sinister.
The fact that Doctors like @ClareCraigPath just speaking facts & truth are being suspended, shows how close we are to losing democracy #ReinstateClaireCraig pic.twitter.com/Lq5gJpcjYR

— Tonia Buxton (@ToniaBuxton) August 22, 2022
Increasingly sinister platforms like Twitter are picking off scientists one by one who question government policy.
Last month, Twitter banned British surgeon Tony Hinton for his Covid posts. Dr Kat Lindley and Dr Robert Malone are also among the renowned experts banned. Twitter even locked out an evolutionary biologist Dr. Colin Wright for posting a cartoon meme.
Who is to blame for the takedown of multiple high-profile accounts?
The WEF boasted in 2020 that it had recruited over 110,000 "information volunteers" who would ensure that dissenters' opinions were "unearthed, tracked, and censored."
Klaus Schwab and his fellow globalists have unleashed their digital soldiers to police social media platforms for "misinformation" and "conspiracy" content.
Therefore, social media accounts are being banned and suppressed to ensure systematic censorship.
Misinformation on the internet is an "info-demic" that needs a "cure" according to the unelected globalist organization.
"So far, we've recruited 110,000 information volunteers, and we equip these information volunteers with the kind of knowledge about how misinformation spreads and ask them to serve as kind of 'digital first-responders in those spaces where misinformation travels." Fleming said
#ReinstateClaireCraig – @Twitter continues to demonstrate it is much closer to the authoritarian practices of North Korea & China, than the supposed enlightenment of western democracies. Claire expertly examines & analyses data without fear or favour.
"Science" is not dogma. https://t.co/j4GRJCWhLC

— Ross Dyer (@RossDyerTV) August 22, 2022
In addition to providing us with factual and peer-reviewed material, Clare Craig was wonderful and elegant in the way she informed and educated us.
In 2022, citizens are prohibited from expressing facts that contradict official narratives. It's only going to get worse before it gets better, welcome to the information war. There may be a solution in abandoning the platform altogether, but we must remain to counter their lies and to hold a mirror up to them.
It's plain censorship, when she emerges on another truth-based social network, I'm sure she will go from strength to strength.