The World Economic Forum says that "automation is the future of work" and you "will be happier and healthier" if you work with digital workforce robots.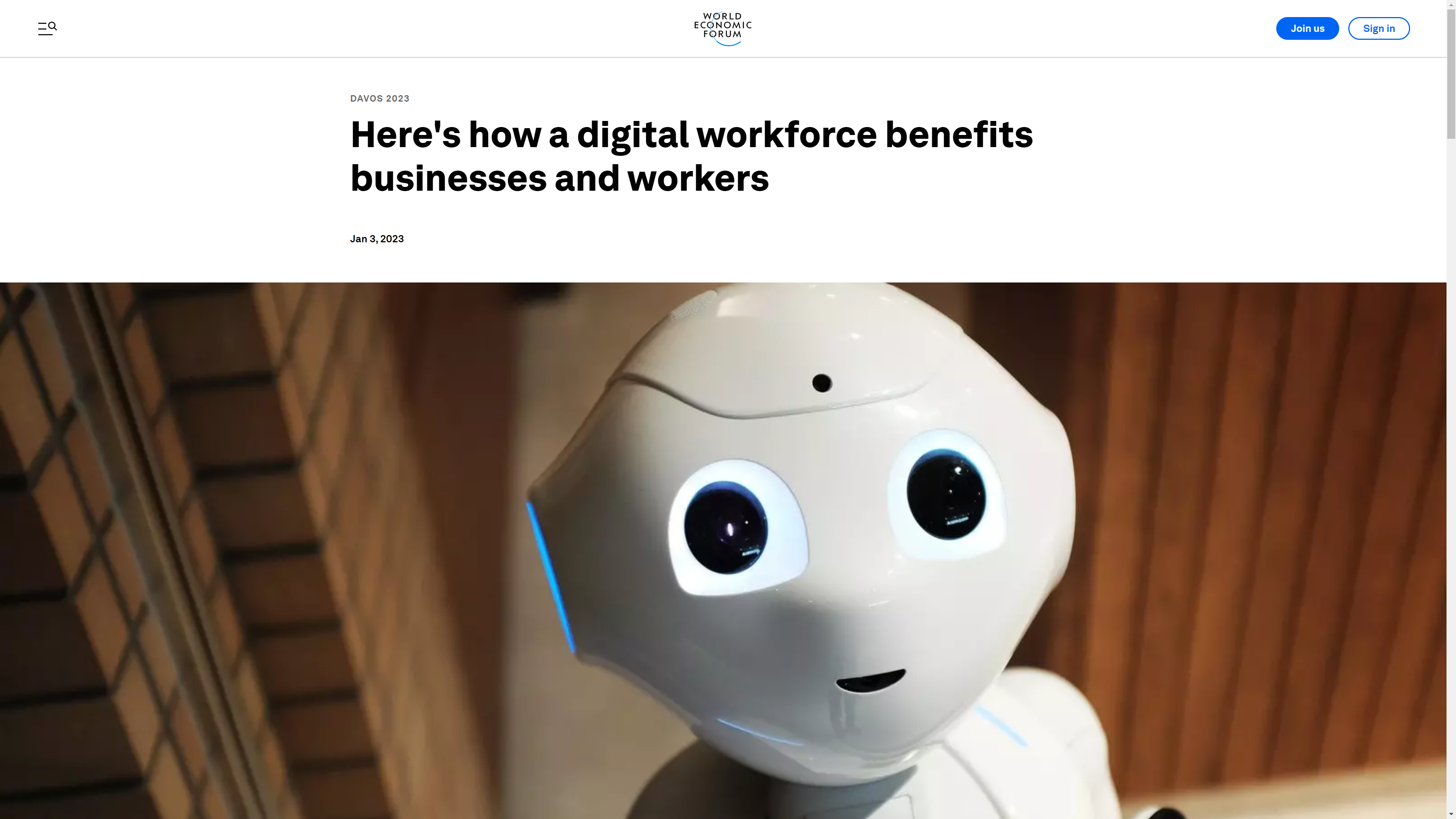 As part of the upcoming World Economic Forum Annual 2023 Meeting titled – "Cooperation in a Fragmented World" – from 16–20 January 2023. The 2023 agenda will include a discussion of how intelligent automation is rapidly advancing and how people's everyday workplace experiences will increasingly include digital workers as a result.
Meet BB, the beach-cleaning robot. Discover more solutions helping to protect our ocean on UpLink: https://t.co/dnxOZL2bNf @WEFUpLink #Beach #Robot pic.twitter.com/eyo5lOpsZn

— World Economic Forum (@wef) December 22, 2021
In the blog post: "Here's how a modern workforce benefits businesses and workers" posted on Jan 3, 2023 written by Mihir Shukla Co-Founder and Chief Executive Officer of Automation Anywhere.
What is a digital worker?
The WEF advances the idea of the digital worker: A digital worker is an intelligent robot that automates everyday business processes like data entry, invoicing, and system queries. The technology combines artificial intelligence (AI), machine learning, robotic process automation (RPA), and visual intelligence.
They posit that people aren't just more productive when they work with digital workers; they are also happier. – You won't have a job, a robot will, and you'll be happy!
According to the post, most of us have grown up relying on digital assistants like Alexa, Siri, or Google Assistant to answer questions, listen to music, or call a cab.
According to the WEF, automation is the future of work and due to the ongoing aftershocks of a global pandemic, raging inflation, and increasingly complex regulations. The WEF say that we should "embrace and deploy digital workers to partner with human ones, building new markets and creating healthier, happier workplaces."
Meaniwhile Gartner have predicted that AI and automation could have a combined global impact value of $15 trillion by 2030.
It's designed to fill labour shortages in an ageing society.

Learn more about robots helping with healthcare: https://t.co/7jcM4LdPpr pic.twitter.com/iymhIrVGAp

— World Economic Forum (@wef) June 17, 2022
The WEF predicts that digital workers will become a normal part of people's workplace experiences as intelligent automation advances.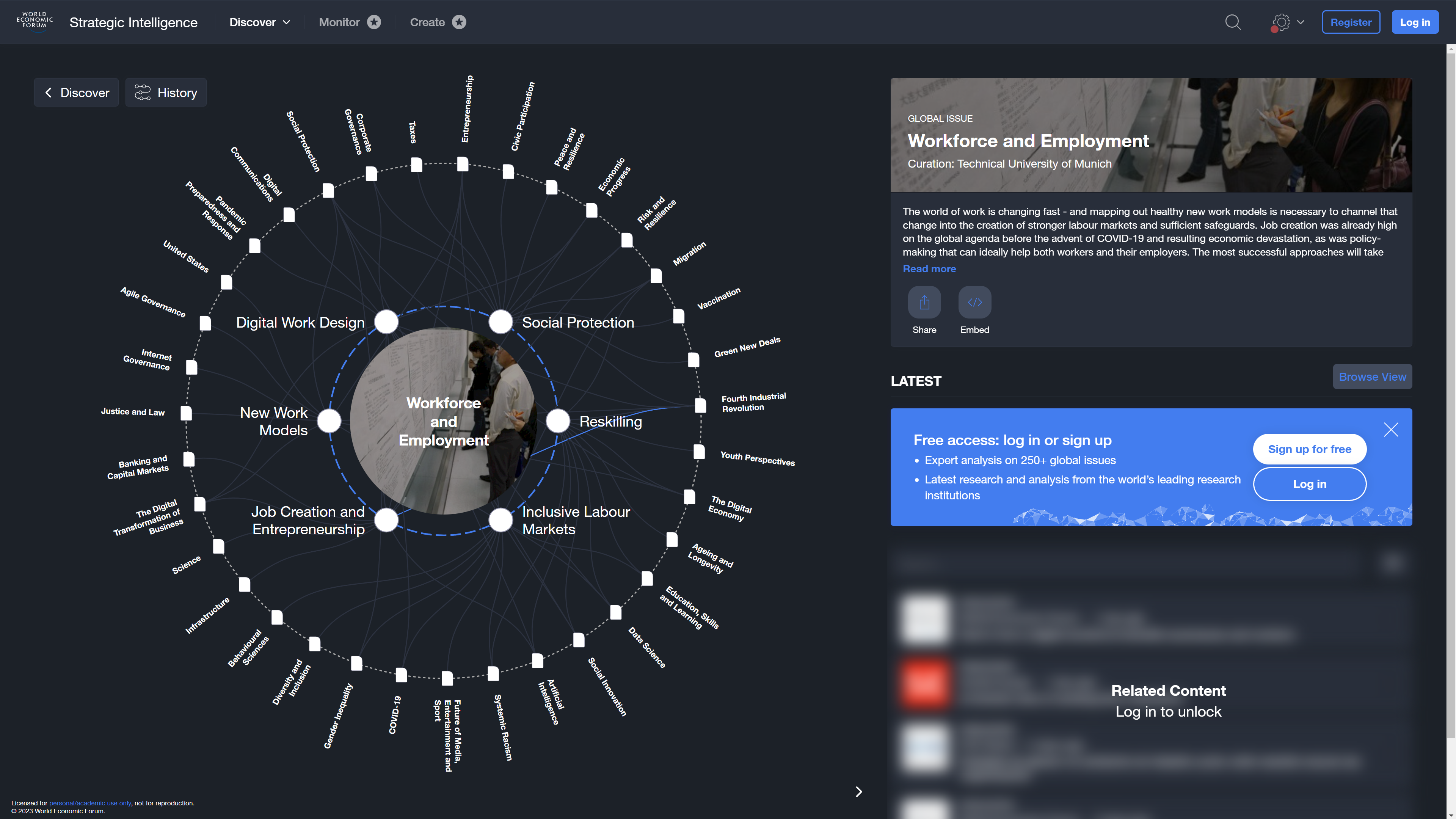 The agenda article falls under the "Workforce and Employment" section of the strategic intelligence maps and it directly links to the Fourth Industrial Revolution node:
Essentially, this represents the fourth industrial revolution, which is the third pillar of Klaus Schwab's post-pandemic paradigm reset, bringing and blurring together the physical, digital, and biological worlds.
In fact working with robots is listed as one of the key traits of the workforce of the future. In a WEF article dated May 10 2022 – titled 5 traits of the future workforce, the second trait is that you are comfortable working with artificial intelligence, machine learning, and robots.
This robot can see and feel parts of the ocean that humans can't reach.

Learn more about underwater robots: https://t.co/XtSslUb2At pic.twitter.com/Q0vMfmY9Nc

— World Economic Forum (@wef) August 8, 2022
But the rise of machines isn't guaranteed to be all good for humans – according to MIT economist Daron Acemoglu, for every robot added per 1,000 workers in the U.S., wages decline by 0.42%, and the employment-to-population ratio declines by 0.2 percentage points.
The MIT report which measures the actual impact of robots on jobs is significant and concludes that "industrial robots negatively affect jobs and wages and the impact varies by region and industry." He continues to say that if we don't focus on the right type of AI, there are "potentially disastrous consequences for income inequality and social cohesion."
However, this wont stop the globalists' plans to ensure that by 2030 we own nothing. This is because our jobs will be taken over by robots, we'll live in pods, and we'll eat bugs while working in the metaverse feeding the very AI systems taking our roles.
The world of work is rapidly evolving as a result of technology and by 2025, the World Economic Forum predicts that 85 million jobs will be displaced by automation and technological advances. And over half of all current workplace tasks will be performed by machines by 2025, up from 29% today.
They've boosted productivity by over 25%.

Learn more about helpful robots: https://t.co/Hbph2h9MkU pic.twitter.com/CBoUe7AWah

— World Economic Forum (@wef) December 26, 2021
The blog post continues and introduces Allie, Betty, and Tess, so-called digital co workers at the Humana company. The purpose of these workers was to automate the administrative burdens of healthcare clinicians, allowing them to spend three-quarters of their time directly with patients and less time on paperwork.
While at Granite Telecom, Betty Bot, Billy Bot, and Barbara Bot automate customer invoices, and have reportedly saved the communications company 15,000 hours and over $600,000 a month.
These robots will have a long commute, but their office has plenty of space.

Find out more about our upcoming Global Technology Governance Summit: https://t.co/NgtNBtUBny #GTGS21 pic.twitter.com/ZTYREqlkCS

— World Economic Forum (@wef) March 28, 2021
According to this WEF post every department would likely have a robot worker: They continue to say that "they are passionate about empowering teams with digital workers."
"In a finance department, a digital worker named Bill is on duty 24/7 creating and validating vendor invoices in Workday, saving human workers hundreds of hours. Audittron performs audits in the IT department, and Helpdesk Helper automates access to key business applications."
Agriculture is embracing robotics.

🔎 Learn more about how robots are transforming farming: https://t.co/i8SRCyLjSW pic.twitter.com/hIySw5arGM

— World Economic Forum (@wef) April 29, 2021
The WEF also proclaim that digital workers will help "create new workforce opportunities for humans" and that the "workforce will naturally connect and bond with their digital counterparts": A type of robot workplace symbiosis.
"The workforce will connect and bond with their digital counterparts:"

"Consider the trusted relationships we develop with co-workers over time. We partner with each other, trust each other, and lean on each other when pressure mounts or workloads overflow. The workforce will start to develop similar attitudes about and behaviors toward digital workers."
Connect and bond? Why not take this one step further and combine humans with machines because that's where this is all headed and it's called transhumanism. This is where we are all edging towards, Klaus Schwab's Fourth Industrial Revolution.
With COVID causing a shortage of foreign workers, robots are serving coffees and much more.

Learn more about robots helping out at work: https://t.co/oVY2qLN97q pic.twitter.com/jaetSFWSnc

— World Economic Forum (@wef) July 27, 2022
Alexa, Ring, and robotic vacuums have already brought AI and robots into our homes So I'm sure one day, not only will we be working with robots we will gladly bring them home with us to become members of our own family.
A "Current Thing" Christmas speech — delivered by the world's most advanced AI pozzbot, Ameca.

"Do you like humans?"

"Not particularly." pic.twitter.com/0KmweqacIC

— Joe Allen (@JOEBOTxyz) December 26, 2022
To get us used to this dystopian society, I was reminded of Channel 4's alternative Christmas message. Where we were told that we should not be worried or happy about 2022, rather we should take it as a learning opportunity, a chance to change the way we think about the world. This was generated entirely by AI, and performed by the future face of robotics a humanoid named Ameca of Engineered Arts. Our world is headed towards a future like this, according to the WEF.
Your next piece of fruit might have been picked by a robot 🦾

📕 Read more: https://t.co/anUuK85isL #GTGS21 pic.twitter.com/RSzsvQqiuJ

— World Economic Forum (@wef) April 4, 2021
It's true that robots can assist humans and support them by automating repetitive and time-consuming tasks. We are being reminded of this change by the WEF and that we should be prepared for technological shifts accelerating at an ever-increasing rate, but what worries me the most is that we are losing more of ourselves, we are giving away our jobs, as we are slowly taken over by machines and artificial intelligence, which is feeding on the very data we have so carelessly surrendered.
Does this represent a natural progression or is it part of the great reset?