I wish the crazy conspiracy theorists just stopped coming up with crazy conspiracy theories—the kind of crazy theories that end up being bankrolled by totally rational and benevolent mobsters in high chairs, justified by totally sane and independent-thinking researchers, and legislated by perfectly honest and not one bit corrupt politicians! Yeah, that kind of crazy theories. I wish the crazy conspiracy theorists just stopped coming up with those!
In a paper published today in the journal 'Ethics, Policy and Environment', academics argue that rationing could help states to reduce greenhouse gas emissions rapidly and fairly.
Records from World War II show that compulsory food rationing was more acceptable to the UK public than voluntary changes to diet when resources became scarce. The policy aimed to share goods and burdens more equally, regardless of wealth, which was an important part of its popularity and success.

Historic rationing policies also introduced price controls on goods to keep key resources affordable for most people. As a result, rates of malnutrition went down during World War II, despite the shortages.

A key difference between World War II rationing and the climate crisis is public perception, the researchers say. The availability of thousands of garments, gadgets and goods at the click of a button can give the illusion that resources are available in abundance, but the reality is starkly different.
Speaking of Leeds University: meet "consumption interventions."
Have you seen this 2019 report, released by the University of Leeds, Arup, and C40 Cities, titled, "THE FUTURE OF URBAN CONSUMPTION IN A 1.5°C WORLD"?
A related statement from Climate Institute:
We can begin by tackling production. In certain cities, such as Portland, 90 percent of emissions from food come in the production process rather than the transportation, cooking or disposal. Therefore the types of food we eat make a large difference. Meat production is extremely energy and water intensive compared with growing fruits and vegetables, so shifting focus away from meat provides emission reductions opportunities.

This also feeds into the most commonly used recommendation: a significant shift towards a plant-based diet. EAT and C40 research has recommended that, by 2030, citizens consume no more than 16kg of meat per person per year, down from 58kg currently in order to meet emissions targets. Moreover, limiting dairy to 90kg per year from around a 106kg average in the largest cities could save 19 billion m3 of freshwater annually. However, to assume that everyone would be willing to make such large changes is a little unrealistic. Instead of the all or nothing approach, if a large volume of people made gradual dietary changes over time – such as not eating meat on certain days – the cumulative effect would be enormous, and the shift would not be so drastic.

Changing the types of food we eat frequently is a key factor but so too is the quantity. The average North American citizen consumes 3100 calories per day, roughly 600 calories higher than the recommended intake. By working to bring this figure back down, emissions could be saved, and the negative health effects associated with overeating could be reduced.
Meanwhile, my favorite paper, the New York Times:
In interviews and public appearances, Yusuke Narita, an assistant professor of economics at Yale, has taken on the question of how to deal with the burdens of Japan's rapidly aging society.

"I feel like the only solution is pretty clear," he said during one online news program in late 2021. "In the end, isn't it mass suicide and mass 'seppuku' of the elderly?" Seppuku is an act of ritual disembowelment that was a code among dishonored samurai in the 19th century.

Last year, when asked by a school-age boy to elaborate on his mass seppuku theories, Dr. Narita graphically described to a group of assembled students a scene from "Midsommar," a 2019 horror film in which a Swedish cult sends one of its oldest members to commit suicide by jumping off a cliff.

"Whether that's a good thing or not, that's a more difficult question to answer," Dr. Narita told the questioner as he assiduously scribbled notes. "So if you think that's good, then maybe you can work hard toward creating a society like that."

At other times, he has broached the topic of euthanasia. "The possibility of making it mandatory in the future," he said in one interview, will "come up in discussion."
I have written about euthanasia earlier, and, like I said, it was the most difficult article I've written in my entire life.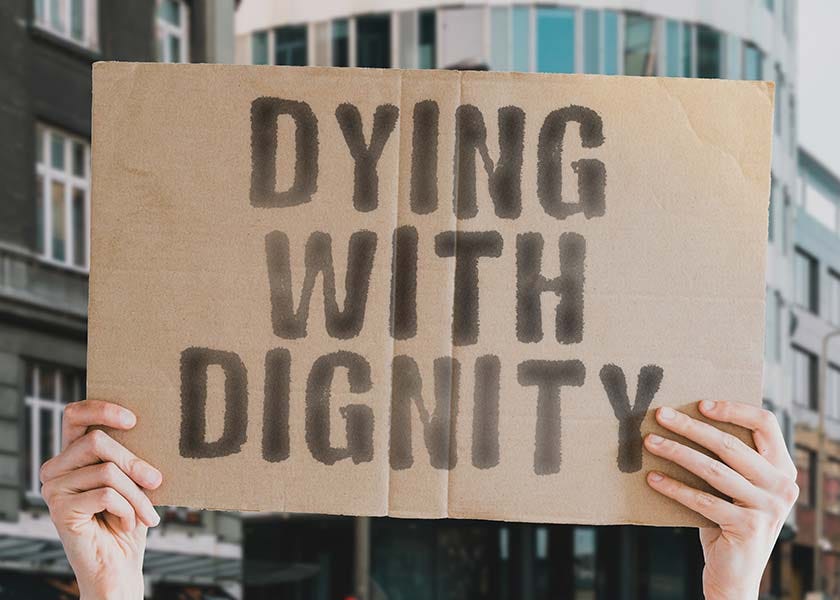 The Right To Be Murdered: Is Euthanasia the New Buzzword?
Assisted suicide is now making headway around the world, including the US. Is this truly a boon for society, or is there a scheme behind it?
I'd like to end this story with a must-watch video. This young lady has three words for Klaus Schwab: "How dare you?!!"
Even the kids are clued up pic.twitter.com/43JIzxoRTP

— Janey (@_Janey_J) February 18, 2023