What is being planned as it slowly unfolds as I imagine it to, is the destruction of human liberty in the West, there are huge implications for human rights and medical sovereignty as new lockdown restrictions are permanently applied to the unvaccinated or anyone who refuse yearly boosters.
Remember back in November 2020 when China's Xi Jinping pushed for a global adoption of its Covid QR Health Code? Back then he was struggling to convince the world, but less than seven months later, we see the Chinese system being implemented in every country in the West simultaneously, a globalist military-grade script.
China mandated the widespread use of its QR-based health certificates from early in the pandemic.
"China has proposed a global mechanism on the mutual recognition of health certificates based on nucleic acid test results in the form of internationally accepted QR codes. We hope more countries will join this mechanism," Xi said at the G20.
The pandemic has provided a 'proof of concept', but China's actions in the new digital landscape extend beyond managing its own pandemic response and controlling its own citizens. China is aggressively pursuing global technological dominance by investing in its indigenous tech sector and exporting technological surveillance tools. – Lowy Institute
Once the UK's new digital health app aka 'Covid Status Certification' which is technically in the same image as China's comes in, this is what we 'could' expect from its rollout, I urge all of your friends and family to read this in order to decide if this is the kind of future they want here.
In China several cities in Jiangxi and Zhejiang provinces have announced new mandates that would bar unvaccinated people from public places. In the UK, they can say but it won't apply to public spaces like libraries, cinema's etc, but this can be quickly scaled in or scaled out.
From July 27th, 2021, residents in Jinggangshan, Jiangxi Province, will have to show proof of vaccination before entering medical institutions, educational facilities, libraries, museums, and other key locations, according to the city's local government.
And similar ordinances have been introduced in several cities in Shandong and Zhejiang Provinces, where the unvaccinated will be turned away from most public buildings, schools and nursing homes, as the country targets an inoculation rate of at least 80% against Covid-19.
In Zhejiang's Qingtian County, under a new mandate that took effect last week, locals are required to present two health credentials — a green health code on one's smartphone that shows the bearer's recent negative COVID-19 test result, and a vaccination certificate issued by an authorized hospital — to gain entry to establishments like hotels, supermarkets, and banks.
When denied access and this is alway proved via vaccine passport apps, unvaccinated individuals must provide personal information that will be used by community support workers for contact and vaccination persuasion.
Fancy breaking the rules or laws? In Cyprus, a police spokesman recently said, "seven establishments – four in Nicosia and three in Limassol – were booked after either customers or staff or even the managers themselves, did not have a safe pass."
Back to China, authorities say unvaccinated parents can't send their children to school, and students will not be allowed back in school in September unless their entire family is fully vaccinated, some local governments in China have said. In the northern Hebei province of Pingxiang, students aged between 12 and 17 will not be allowed back to school unless they are fully vaccinated.
Meanwhile, public servants across the region will also have their salaries suspended or be denied work for not getting vaccinated, the government notice said.
According to a July 13 government report in Tanghe, a county located in landlocked Henan Province, only proof of vaccination or contraindication to vaccination will grant a citizen access to local public places including public transportation.
"At first, they said vaccinations were voluntary. Turns out they're mandatory after all," one person wrote on microblogging platform Weibo.
So, the question is, do you want to go down this road and follow the Chinese because it's essentially the same system QR vaccine code system that is being implemented in the west.
It's not just the vaccine passport themselves, China also has their 'Digital-Health-Code' with its contract tracing and health kit functionality.
When entering China, men masked behind face shields tell you to scan the track-and-trace codes with your mobile phone. Up pops up a "Health Kit" – a mini program inside the WeChat app – which could show "no abnormal conditions."
The electronic health monitor, required for all Beijing residents, also displays a photograph of your passport, all your personal details and the results of your most recent Covid-19 tests and vaccines.
You do not need to input any test results as they are automatically uploaded via a central data bank connected to your WeChat profile. Meanwhile when there are local or national lockdown this means people cannot leave their homes. In several cases, doors have been welded shut, sealing residents inside for days.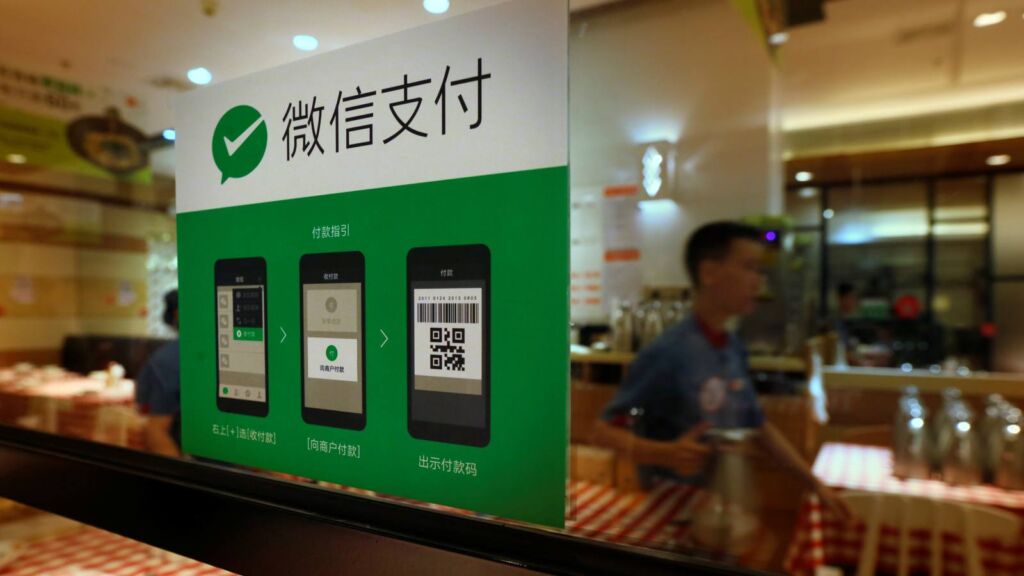 Residents who test positive aren't permitted to recover at home anymore but instead removed by medics in hazmat suits to isolation facilities. Even young children with Covid are routinely separated from their parents, as in the case of an eight-month-old, breastfed baby in Beijing.
And the rate of public compliance is pretty high, partly because non-compliance risks police detention. Heavy censorship meanwhile, keeps dissenters quiet.
Residents have had to get used to always having their phones on them since the mandatory nationwide systems of coloured health QR codes was rolled out in 2020.
A green health code allows you to move around freely while yellow or red requires self-isolation.
Hangzhou has since expanded and it's keeping the health code system, tracking not only location-based physical contacts and location, but their smoking, alcohol consumption, and harvesting step count or sleeping habits from their phones to assign them a health score.
In the app an individual's status are colour-coded and scored out of 100 based on medical records, physical test results, levels of activity and other lifestyle choices such as smoking. Drinking a glass of white wine could set your score back by 1.5 points, while sleeping for seven hours could improve it by one point.
It allows authorities to look back at someone's travel history in the previous 14 days and to see if they visited areas of high risk.
The capital Beijing has a "Health Kit" program also displays whether people have taken a train or plane, passed a road checkpoint into the city or have been tested for the virus.
Once you bolt on social credit scoring for everyday behaviours to be nudged along, the system becomes anti human, and we need to act now to block Britain's social credit system coming into existence.
France too, has gone full blown health dictatorship; France is mandating vaccine passports to visit the Eiffel Tower and other tourist attractions and restaurants are soon next.
Even hospitals in France are only reserved for vaccinated persons only now. "A non-vaccinated person will no longer have access to the hospital unless they prove a major medical contraindication, agree to be vaccinated to benefit from scheduled care."
Breaking: tens of thousands protesting Italy's vaccine passport ruling

— George Papadopoulos (@GeorgePapa19) July 22, 2021
In Italy it is also required to have a COVID-19 'pass' for many activities. The passes will be needed to dine at tables inside restaurants or cafés, to attend sports events, town fairs and conferences, and to enter casinos, bingo parlours and pools, among many other activities. according to officials.
The effect of vaccine passports is many-fold, as more people oppose the authoritarian systems in their own countries, businesses would likely be forced to close, those who do not wish to adhere to these segregated public policies and this plays into the hands of the globalists.
Those who vaccines passports expire come March 2022, and who won't submit to further medical interventions, will too be locked out of society and again overall footfall into pubs restaurants and shops will be on the decline again playing into the hands of the great reset.
The more this plays out the more people will be naturally locked out of society except for the privileged few.
For the lucky few, who can still go about their business, but many will find that their overall health instead of being boosted by regular vaccine intake is instead being hampered by the constant stimulation to their immune systems to new experimental foreign agents.
https://twitter.com/EmeraldRobinson/status/1418289945333178369?s=20
With further restrictions and new lockdowns planned for Autumn 2011 and Winter 2022. Those who can prove their health status will be the only ones allowed to go about their business. A paper carrying country or a verifiable credentials digital identity carrying country is what we are fast becoming.
And you don't have to go far to find quotes like these: "We want to empower users to return to public life and the things they once did freely, pre-Covid-19, with ease and continued safety, with this and future credentials" said David Lucatch, CEO of KABN.
See the note for 'future credentials', Covid will not be the only credential carried, there will be many news ones to follow, all of your digital id's and health attributes in one handy digital wallet, you perhaps wont even need to carry cash or cards anymore.
"Liquid Avatar's covid credentials will enable businesses, schools, entertainment venues, and more do the normal things that they do and give users the power to engage with them as they did before the pandemic changed our lives."
Indeed, to do the basic normal things, we have to first submit to medical interventions, those who do not submit will find themselves as outcasts, rogues and nomads constantly being smeared by useful idiots and unable to engage in the life they once knew, the life they once took for granted.
I hope this is a big wakeup call to all of us, its past the time to get angry, we are well past that point. We need new solutions, but we can't solve these problems by using the same kind of logic that created them.
Expect this to be last summer of freedom, as we venture into a brave new world, the Chinese invented the virus and so to they invented the global digital QR code for us.