The debate about the use of COVID-19 vaccine passports is heating up as more and more people get vaccinated. Some say they can be incentives for people to get a shot and allow more normal activities to resume, but others worry about infringing on people's freedom and privacy.
Since last weekend's, Public Administration and Constitutional Affairs Select Committee (PACAC), the cross-party committee appointed to scrutinise the Government, published their report on the UK's Covid-Status Certification. Where they basically shot down the Government's plans saying that "Covid-Status certification raised concerns that a covid passport would not aid unlocking but would add new burdens to key sectors of the UK economy and society". They found the Government made no "convincing scientific case and that the success of the vaccine program makes domestic Covid passports unnecessary."
Was this to be the final nail in the coffin for domestic vaccine passports? I wish this were the case:
The Prime Minister Boris Johnson's roadmap delay will actually help the government establish whether the NHS app would be useful as a domestic COVID passport. Michael Gove has said "that the four-week delay to the easing of restrictions in England will allow for a better understanding of the use of the NHS app as a coronavirus passport."
Speaking at an event in London on Whitehall reforms, he said the new date would "enable us to be in a stronger position to judge what the utility of the app might be".
Asked about COVID passports, he said pilots are being run with organisations such as the FA and England and Wales Cricket Board (ECB) "In order to build on the capacity of the COVID app to provide people with reassurance that venues are safer than they otherwise would be".
MPs have said the requirement of vaccination status to get into UK venues would be discriminatory – but passports could work for testing. This lockdown lifting 'delay' is being used to trial and launch the domestic rollout of the vaccination passport scheme using the NHS app and for them to complete their Events Research Programme (ERP) review and to decide how certification plays a part in the safe reopening.
The UEFA EURO 2020 final matches will be held at minimum 50 percent capacity and the Wimbledon Tennis Championships will run from Monday 28 June at minimum 50 percent capacity. Both will require Covid-19 status certification.
Mr Johnson's spokesman told reporters: "The large events pilots will be going forward to continue to test and trial Covid status certification."
"On Wednesday 16th June, the AELTC will provide an update on the final decisions for this year, including ticketing capacities, and any spectator requirements such as COVID-status certification."
Full steam ahead: Vaccine passports on the NHS app will automatically include a user's "natural immunity" to Covid for six months after contracting the virus without the need for an antibody test under a new trial. The scheme will see 180-day natural immunity certificates issued to people taking part in the Government's latest large event trials who have tested positive for Covid this year, even if they have not had an antibody test. Officials hope the scheme could eventually expand the number of people who could use vaccine passports to prove their immunity if they are approved for domestic use in the UK.
And another MP says to "Bring in vaccine passports now to save businesses", MP says. "Vaccine passports must be brought in urgently to save businesses at risk due to the extension of Covid restrictions, an MP has said."
Even Labour, the Government's opposition is ready to support Covid Status Certification. In a tweet they wrote: "Labour will seek the immediate scrapping of the amber list so as not to undermine our successful vaccine programme and call on the Govt to work to introduce an international vaccine passport".
The second of @UKLabour's opposition day debates today will be on Covid-19 secure borders

Labour will seek the immediate scrapping of the amber list so as not to undermine our successful vaccine programme & call on the Govt to work introduce to an international vaccine passport pic.twitter.com/dBhV6O66zA

— Labour Whips (@labourwhips) June 15, 2021
However is there a bigger plan at work? In this exposed and leaked information, it seems to suggest that the Government and the media are in on a plot and that it's all theatre:
https://twitter.com/SikhForTruth/status/1393680326615085059?s=20
In this article dated May 15th 2021. The leak suggests, that "All the latest measures are aimed at two things, vaccine passports and lockdowns starting next winter 2022." And that "The ultimate goal is to have the public, back in their box."
The plan, according to the source is designed to take us to the September 27th 2021 date and it's to be released in stages over the summer months and is already 'well underway'.
I quote the article: "The final milestone is due on June 21st where ALL restrictions were promised to be lifted. This will not be allowed to happen. Vaccine passports / Track and Trace will be mandatory, as will masks and social distancing. The entire week of the 21st will be taken up by a third wave, which will suddenly be 'rampant', and this will be attributed to a new variant which they will declare is deadlier than the previous strains of Covid allegedly doing the rounds. This will be accompanied with yet more issues with vaccine supplies."
Starting to happen and on queue?
Authorities will declare that one of the vaccines is effective against the deadlier strain (Delta or a new one?), but a 'problem' with its manufacture will emerge."
The Whitehall source went on to say – "All the measures are aimed at two things, vaccine passports and lockdowns starting next winter, "The ultimate goal is to have the public, back in their box." The plan also includes an ad campaign like the one seen at Christmas, the message this time will be that the pandemic isn't over and "vaccine passports are the only 'solution'."
It is important to understand that vaccine passports are the key entry point for global digital identity systems, which must be implemented well before 2030.
In this policy white paper from the Tony Blair Institute for Global Change titled. "Digital Identity: The Missing Piece of the Government's Exit Strategy". The paper posted on: 9th June 2020, it writes we need: "To implement a mobility credential linked to a secure and user-centric digital identity to allow the safe reopening of close-proximity spaces."
It goes on; "To set the right framework for how credentials are used in practice, to secure broad-based public support. It explains "How Digital ID Can Help Tackle Covid-19". And the "briefing sets out how digital identity can help to manage Covid-19, what an optimal solution should look like, the fault lines of public consent and the obstacles that need clearing to accelerate delivery." It reiterates that "The need for digital identity is clear."
They also wrote, "To Create a platform to securely issue credentials based on test results. For example, someone would present their digital ID when being tested; a unique credential based on their results would then be sent to their app."
Most recently Tony Blair has said: "The Good Health Pass Collaborative is doing critical work to develop the standards we need. Now leaders need to lend their weight to this effort. The G7 group of nations should commit to establish a network of globally interoperable health passes" – Tony Blair.
An important problem of digital identity is inclusion, you do not want to leave people behind, but that is inevitable with technology and I do not think the globalists have properly thought this one out. As Ugandans Digital ID scheme excludes nearly a third from healthcare, says a new report. Vital services including grants financed by UK were unavailable without identity cards, and many women and the elderly were worst affected.
"We believe that schemes offering options for people to show their digital credential and biometrically authenticate it with their face, instead of presenting photo ID, will provide the best way to meet these requirements." Andrew Bud, Founder & CEO, iProov has also said.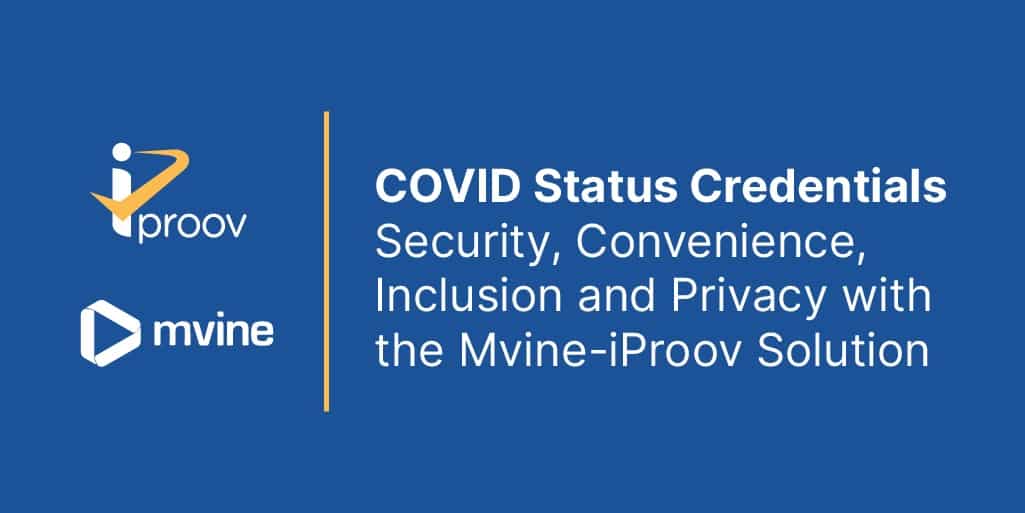 Watch the latest video from Mvine and iProov, the UK COVID status credentials and vaccine passport solution. The most interesting parts are the ability to input the testing results from home Covid LFT tests into your health credential wallet and also, the venue biometric face scanning reader apps to confirm Covid status.
Meanwhile in Scotland: Pub vaccine passports are a step closer to reality. The prospect of pub patrons in Scotland being turned away unless they have proof of vaccination has moved a step closer after a leading licensed trade representative indicated it supports vaccine passports. The Scottish Licensed Trade Association has previously dismissed vaccine passports to access pubs and other public premises as unworkable. However, the announcement that tough restrictions such as curfews and capacity limits may be in force for most of the summer may force a change of heart.
Elsewhere in the EU, during a ceremony, the Presidents David Sassoli and Ursula von der Leyen and the Portuguese Prime Minister António Costa, who is currently the President of the Council, showed their support for the EU Covid Certificate documents, asserting that it is "a symbol of what Europe stands for." I am not too sure it is.
And we are being told that the regulations will only apply for 12 months as of 1 July 2021 and after this it will most likely be consumed into the EU's new Digital ID Wallet which they have recently announced. – The ID2020 plan.
In other news: "The use of the health passes that are safe, reliable, and protect the data of users will have benefits beyond the aviation industry and could be used for other social and economic activities," – Airports Council International Director Oliver Jankovec.
And "Australians need to be able to prove they are vaccinated one way or another," Dr Khorshid told ABC Radio last week. "It's going to be needed for international travel. It may well be needed in many workplaces."
The Abu Dhabi's Covid-19 Vaccine Passport system, will also be used everywhere from public parks and beaches to malls, hotels, and large supermarkets. Gyms, swimming pools, entertainment centres, restaurants and cafes will also require proof for entry. Complete tyranny!
In Canada, it's implementing the WEF KTDI plan, "a digital form of identification is created that contains the traveller's identity, boarding passes, vaccination history and information on whether they've recovered from COVID-19."
"With a digital wallet that is biometrically controlled, travel passports will soon become one of the largest uses of platforms like Liquid Avatar." – Liquid Avatar have said.
Fundamentally Covid Passports are Digital IDs at their very core, and "Keeping your digital identity secure with a vaccine passport will be key to a safe implementation." And finally that "Digital vaccine passports are the future". 
If you have never fought for anything else in your life, then let it be this

A domestic vaccine passport is not your route to freedom, it's a profound loss of your Human Rights, to move freely, medical privacy & to work

It's the fight for our lives#NoVaccinePassports #COVID

— Bernie's Tweets (@BernieSpofforth) June 16, 2021
We are simply in the calm before the storm: The storm will come when the Government finally announces the results and ERP reviews on Covid Status Certification, vaccination passes are irreconcilable with the basic principles of the medical profession. Coercion has replaced autonomy, punishment has replaced compassion, checkpoints have replaced confidentiality, segregation has replaced inclusion.