Wow what a week this has been for covid passports, a week since my last article and as ever this is an ever-expanding moving picture. We are now at that juncture folks, that if we collectively let vaccine passports come into being then we may as well give up now and go and live in China, although we will not have to because it will be the same everywhere.
This new digital and biometric passporting system will allow government's to control every aspect of our physical existence, where we can go, where we cannot. It is no good being naive about the state of play and saying that it will never happen here, we have just been locked in our houses for well over a year, so anything is now possible.
'We should not now be imposing measures we see in China. This is not part of a democratic free society.'

Truman Brewery founder Alan Miller says people will not go to clubs if they have to show a vaccine passport. pic.twitter.com/cybhd24Y1v

— GB News (@GBNEWS) July 14, 2021
With the Coronavirus Act 2020 due to expire on the 27th of September 2021 the government will need a new system of coercion and control and now vaccine passports look set to become a part of our daily lives and will soon be required for entry to pubs, bars, and restaurants, the pub passports or movement licenses are again back on the cards as the Government amps up even more fear and more caution ahead of Monday's July 19th unlocking date for scrapping lockdown restrictions.
For a lot of us "Freedom Day" means the start of covid passports, mandatory vaccines for thousands of care home staff, and with businesses and transport providers like TfL still enforcing their own rules on masks and social distancing.
19th July is very far from being 'Freedom Day'. If you read the small print, the next 'stage' is all about encouraging the use of 'Covid certification' & threatening businesses that don't introduce. In the autumn it'll be: 'Use the Covid pass or else we'll have to lockdown again'

— Neil Clark (@NeilClark66) July 12, 2021
Theatres, nightclubs, the arts, and hospitality venues are now starting to get the advice on the roll out of vaccine passports and from Monday the Government is encouraging them to ask for proof we have had our jabs.
The updated guidance sparked a backlash among some Conservative MPs and hospitality chiefs after advice specifically for restaurants, pubs, bars, nightclubs, and takeaway services encouraged the use of Covid passports.
With a pub in Norwich to become the first in Britain to announce that it will check patron's vaccine passports on the door and refuse entry to any unvaccinated Brits.
We are now at the point of local health status check points and the health apartheid is well on its way.
The most recent Government document states to: "Consider the use of the NHS Covid pass to reduce the risk of transmission at your venue or event." And "encouraging and supporting businesses and large events to use the NHS Covid Pass in high-risk settings.
"The Government will work with organisations where people are likely to be in close proximity to others outside their household to encourage the use of this. If sufficient measures are not taken to limit infection, the Government will consider mandating certification in certain venues at a later date."
Covid vaccine passes may be required to attend day-to-day events as well as for international travel as the UK unlocks on July 19 2021. The Prime Minister said that venues with large crowds will be requested to adopt certification 'as a matter of social responsibility'.
The Prime Minister also said that "vaccine passports may be made mandatory in large venues such as nightclubs that fail to introduce them on a voluntary basis." He said relevant businesses should "make use" of the NHS Covid app, amid concern over a slowdown in vaccine take-up, the recommendation to use vaccine passports would eventually become mandatory, the government document reveals.
Epping Forest publican would rather close his pubs than demand vaccine passports from patrons https://t.co/8QcaQtTH8U

— Adam Brooks 🇬🇧 (@EssexPR) July 15, 2021
On Monday July 12 2021, Boris Johnson said Covid passes for domestic venues would be voluntary but encouraged. He said: "As a matter of social responsibility we're urging nightclubs and other venues with large crowds to make use of the NHS Covid pass, which shows proof of vaccination, a recent negative test or natural immunity as a means of entry."
Updated guidance said the Government "Will work with organisations that operate large, crowded settings where people are likely to be near others outside their household to encourage the use of the NHS Covid pass."
But official guidance about moving to step 4, says refusal to request Covid certification could still lead to closures. "If sufficient measures are not taken to limit infection, the Government will consider mandating the NHS COVID Pass in certain venues at a later date," it reads.
"There are no plans to mandate that currently, but clearly as a responsible government we will want to keep the situation under review based on the course of the pandemic," the Prime Minister's official spokesperson said.
Kate Nicholls, the chief executive of the industry body UK Hospitality, said the guidance for pubs and restaurants was "disappointing" given that MPs had previously acknowledged "that this was a very difficult thing to implement in a domestic hospitality setting".
Ms Nicholls urged the Government to provide a "whole suite of guidance" to explain how vaccine passports should work in the hospitality sector "for us to decide whether we are willing to adopt this on a voluntary basis".
Meanwhile in Ireland we are hearing that Covid compliance officers will enter pubs to check Covid certificates, according to Minister Catherine Martin. Their Government signed off legislation for the new domestic Covid-19 certificates to reopen indoor dining, and the Minister for Tourism says there will now be a role for checks by appointed compliance officers.
"Covid compliance officers will be able to come into the premises and check the system so they would check the book to make sure, at the moment, when you enter a restaurant, you would have your name and your phone number taken now you'd present your certificate, so the Covid compliance office would check that that was done."
Premier League:
And now Covid passports and masks will be required at all sporting events in England after July 19.
The Government will issue new guidance which will put fans' pre-match routines under threat under new plans being hurriedly put in place, the UK Government will issue guidance to sports ahead of their return to full capacity in August, after Boris Johnson revealed venues with large crowds would be urged to adopt Covid certification – proof of full vaccination or evidence of a negative test – "as a matter of social responsibility".
Covid certification has already been used at pilot events for the return of crowds to sport, where major changes have had to be put in place to meet the new protocols. A Whitehall source said: "We are going to strongly encourage sports to use it." And "I think sports will be strongly incentivised to do it."
On masks, the source said: "Through guidance, we will be encouraging the use of masks. Certainly, an event organiser can put it as a condition of entry." And "I think most Premier League and EFL clubs will be."  He added.
That is not the whole story, as the Premier League is now developing its own Covid passport system to keep fans in stadiums, football league bosses want to ensure this season continues with capacity crowds after significant loss in revenues last year. Under new proposals being considered, fans will either be asked to download the Premier League passport app on their smartphones or show their coronavirus status when they scan their tickets. The ID2020 system is coming to being.
A Premier League source told the I Paper: "It is something we are exploring as a way to have full crowds this season." And a Whitehall source said the Government was supportive of the Premier League developing a certification system that "builds on the existing NHS app".
Downing Street also said this week that it will be in companies' own interests to use Covid passes because they "will cut the potential for outbreaks".
The push back begins: Posh co-owner brands a need for Covid passports to enter football grounds 'a disgrace'. Peterborough United co-owner Darragh MacAnthony has labelled the possibility of Covid passports being required to enter football matches 'a disgrace.'
France:
Meanwhile similar proposals are hitting France with their Pass Sanitaire, France's new Covid rebellion is well under way: As vehicles were set ablaze and tear gas was fired in Paris over Macron's new health status app laws that all health workers get mRNA jabs and requiring a new Covid pass for anyone over 12 going to enter a café or a restaurant.
Scenes in France yesterday in opposition to vaccine passports.

— Dominique Samuels (@Dominiquetaegon) July 15, 2021
Protesters in Paris were tear gassed during violent demonstrations against France's new Covid laws making jabs compulsory for health workers and demanding vaccine passports for bars and restaurants.
Pubs, restaurants, and nightclubs have also said they do not currently have the technology to scan Covid vaccine passports at the door as the scheme threatens to descend into chaos next week.
"Without being able to scan the QR code, it makes it very difficult to prove this person's actual Covid status. I wonder if they plan to have the technology in place to make Covid passports mandatory later this year?" Said Kate Nicholls, the chief executive of UK Hospitality.
Is the hospitality industry about to hire a staff the size of the UK Border Force to ensure all may safely booze in Wetherspoons? No, but the Goverment have plans for biometrics, where you will be able to scan your face, eyes and walk straight in.
Do not worry as they have already signed deals with Iproov and Mvine for the new biometric face scanning software, where ultimately your face will be your covid credential. Its coming sooner than you think folks.
Mvine is another company which calls for Digital Identity For all.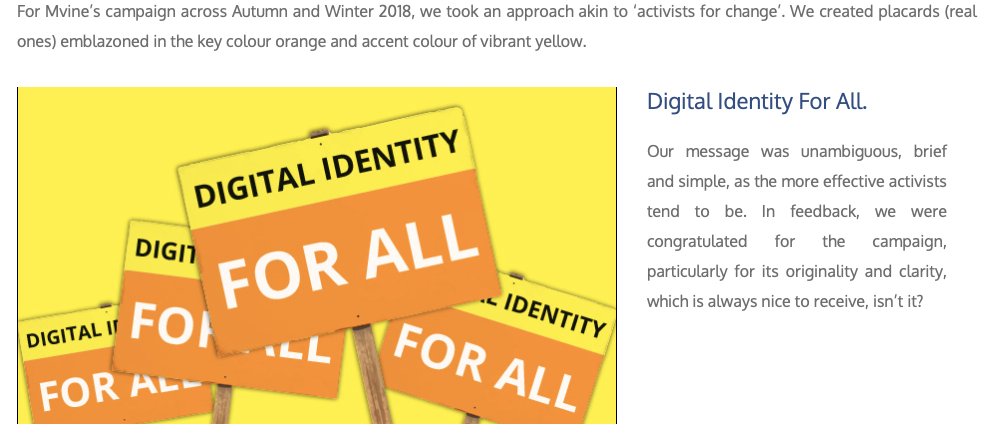 Check out how biometric covid status credential checking will work in the real world.
The Government has also been accused of trying to usher in national ID cards "by the backdoor" after one firm awarded a vaccine passport contract boasted about being able to "redeploy" them into a national identity programme.
NHS Covid Pass Verifier app
A government spokesman said "an app to allow businesses to scan QR codes would be released on Saturday" – just two days before the new guidance takes effect. But industry sources pointed out that many restaurants and pubs do not have QR readers and questioned whether staff would need to use their personal phones. NHSX, the digital arm of the health service, produced a tech support page for an "NHS Covid Pass Verifier app" earlier this year, urging businesses to download it and start using it.
"The official NHS Covid Pass Verifier app is a secure way to scan an individual's NHS Covid Pass and check that they have been fully vaccinated against Covid-19, had a negative test, or have recovered from Covid-19," the page said.
A government spokesman has recently said: "The verifier app will be available for download in app stores by Saturday, alongside full guidance to organisations and venues on how to use both the NHS app and verifier app."
Just like the "SMART Health Card Verifier App" which empowers any organization to easily verify these new QR health status codes.
On Covid Passports the UK Institute for Government has recently said: "If, however, a variant that evades vaccines emerges, and new vaccines or booster jabs are required, (They will be) the arguments in favour of requiring venues to use a passport scheme may grow stronger."
However, as we are hearing within the mainstream news for anyone who is really paying attention, is that vaccinated people now make up almost 50% of all new Covid cases, the symptom-tracking app claims.
And over in the US: Los Angeles County is reimposing their mask mandates irrespective of covid vaccine status, with Los Angeles re-imposing their mask rules it is only a matter of time before the rest of California follows suit, as the globalists seem poised to reinstitute another global lockdown.
And guess who they will blame for this? The unvaccinated, its already happening: "Vaccinated people are, in essence, being asked to make a sacrifice to help slow coronavirus spread among the unvaccinated."
Just over a month ago the Public Administration and Constitutional Affairs Select Committee (PACAC) report on Covid-status Certification highlighted serious ethical concerns in relation to the potential discrimination if a Covid Passport system was introduced domestically. William Wragg MP also raised concerns that a covid passport would not aid unlocking but would add new burdens to key sectors of the UK economy and society.
Now senior Tory MP William Wragg has criticised the government's plans to force nightclubs to check people's Covid status as a condition of entry, and said it is "unenforceable". William Wragg, chair of the influential public administration committee, told Politics Home he believed making Covid certification compulsory would leave venues vulnerable to "ugly confrontation". "I think doing it directly necessitates a parliamentary vote, doing it by stealth as a means of circumventing the need for parliamentary vote is wrong."
"The danger of that, in not even seeking a parliamentary vote, is that you leave venues and others to become, essentially, the enforcers of something which isn't the law, and that is not how the rule of law works in this country."
"It's not for the government to make a suggestion which is unenforceable in law, and I think leaves venues quite vulnerable to all kinds of just ugly confrontation if left policing something that's not theirs to police."
Wragg said he expects if people are denied entry to a venue there will be a legal challenge and businesses will be "found wanting, because they're not acting within the law".
Tony Blair Institute for Global Change is one of the heavy hitters in terms of covid passport policies and has recently said: "With the NHS COVID Pass now up and running, we have the technology to individualise restrictions at moments when the virus is spreading fast. Doing so could save thousands of lives while allowing the remaining restricted parts of the economy to reopen with confidence."
That is right, they want to individualise our restrictions at any given moment in time, like a switch, to be turned on and turned off, ping a notification comes through: you are now in a restricted area please leave. Or a notification comes through, which says you may be limited to only two digital trips on the NHS app. It is all coming folks this is serious authoritarian stuff.
"Mandatory use could be required only at times when case numbers are high, with no such requirement when they fall below a certain threshold. This could mean that the pass would only be required until the autumn, albeit with the option to reintroduce it should a further winter surge occur." The report goes on to say.
In fact the need for vaccine passports technology is truly intertwined with digital identity systems. The focus on building digital health certificates for Covid-19 is yet another example of the acceleration of the rollout of digital identity infrastructure. In this latest piece titled "Rethinking digital identity for post-COVID-19 societies: Data privacy and human rights considerations."
It says that: "The COVID-19 pandemic exposed the need for more efficient and trustworthy digital identity systems to be deployed in private as well as public sectors. For example, the pandemic accelerated the introduction of digital identity systems in the context of social protection, increasing the potential for social injustice (Masiero, 2020). The focus on building digital health certificates for Covid-19 is yet another example of the acceleration of the rollout of digital identity infrastructure (Renieris, 2021)."
Director of the civil liberties group Big Brother Watch, Silkie Carlo has recently said: "Covid certification is a dangerous gimmick that does nothing to make us safer, whilst making us less free." And that "Covid passes are the first attempt at segregation in Britain for decades, dividing communities without reducing the risks."
"We are in real danger of becoming a check-point society where anyone from bouncers to bosses demand to see our papers." She added: "In encouraging businesses to use Covid passes, the government is passing the buck for its own pandemic failures whilst encouraging a two-tier nation of division and discrimination." "We won't tolerate it. Businesses must be open for all and we will name, shame and boycott any companies demanding Covid passes."
This is what they want to do to us. Make our ability to travel, to attend concerts and sports events dependent on us having a ´Covid Pass' app. Remember, the people who warned this is where this were heading were called ´conspiracy theorists' (& worse) in March. https://t.co/F378uLSwrI

— Neil Clark (@NeilClark66) July 31, 2020
The Government's in-out denial approach for well over the past twelve months about if they will be implementing a WEF approved Chinese based health and surveillance check point society was all meant to deflect and deceive the public. We have known right from the very start that this was the eventual end game. In fact, the vaccine passports are no way the end game at all, they are the very start of a very slippery rope towards the Chinese vision of nudging our behaviours and forcing and rewarding compliance.
I am afraid these plans will not be quietly dropped no matter how much we uproar or protest, but we will have to keep an eye on France for this, the plan is that in little under 11 weeks' time or maybe even in 5 weeks time there will come an ultimatum for businesses. Stay open with Covid passports or completely lock down throughout Autumn and Winter. Only premises excepting covid passports will be allowed to stay open. The public will be forced to get back in their boxes and accept 'health apartheid'.
Greece, France, the UK – all in the past couple of days mandating the jab for healthcare workers.

If you can't see the lockstep you're not looking hard enough. Your entire life will be controlled by an app on your phone if you don't rise NOW.

— TruthTalk.UK (@TruthTalkUK) July 13, 2021
The threat of another full national lockdown this winter will be used to coerce businesses to adopt 'Covid certification' that is a definite. Once one understands the main aim of the past sixteen months has been the roll-out in the west of a digital ID restricted access systems, everything else makes sense. A combination of authoritarian-minded government ministers, greed on the part of big tech and apathy on the part of many citizens will ensure that vaccination passports quickly evolve into a permanent surveillance infrastructure.
Anyone who thinks that 'Covid certification' would be a temporary measure is fooling themselves. There are too many vested interests to allow the idea to die a death with the pandemic.